From a Cardiff City perspective at least, 2020 had its good bits, but bookending it were two games which were as bad as anything seen from the team throughout the year. On the first day of 2020, Queens Park Rangers got to 6-0 up at around the hour mark, then took pity on us and stopped trying to score. We got a goal back in stoppage time which newspaper hacks would say gave the score line a semblance of respectability, but it didn't – 6-1 against a lower mid table side has nothing to it that is respectable.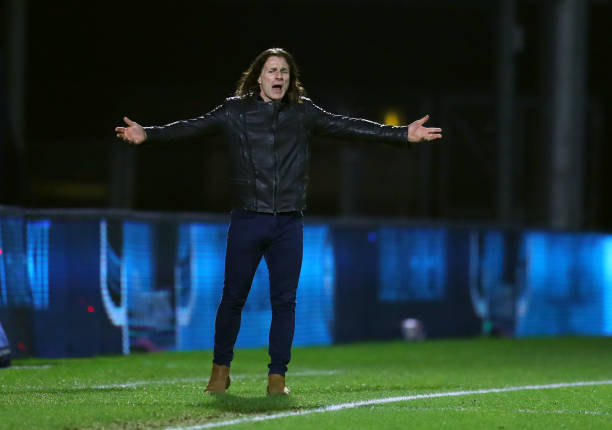 What could be said as a very mild defence for the team was that QPR were a dangerous side last season with a clutch of exciting youngsters with attacking talent – while they were never as rampant as they were that afternoon again, they did have the ability to shock good teams if they were in the mood.
By comparison, it would appear unkind to look at similarities between that embarrassment and a 2-1 away defeat to end City's year, but, in truth you could make a pretty convincing case to say what happened tonight was worse.
With seventy minutes played in their match at Wycombe Wanderers which has just finished, Neil Harris decided to make a couple of substitutions. During the break in play, our manager handed a piece of paper to Joe Ralls, who had taken over the captaincy following the early injury which forced Sean Morrison off. Given the standard of our performance up until then, I was just thinking to myself that it probably said something like "sort it out please Joe please, please!" when Wycombe's David Wheeler, who had just headed his side into a 2-0 lead, grabbed the paper from Ralls' hand before he chucked it on the floor. A bemused Ralls quietly picked up the paper and read his manager's instructions, but, the incident told a story, we were accepting probable defeat meekly and Wycombe were messing about with us.
Now, I've a lot of respect for Gareth Ainsworth and his players (I'm especially pleased for their captain Joe Jacobson who is a great pro and deserves so much praise for getting back to the second tier some thirteen years after he was let go by his home town club), but Wycombe's season had gone exactly how most people thought it would after their unlikely promotion through the Play Offs – they'd won two out of twenty one before tonight and were bottom of the league.
Yet, here they were taking the piss against us and, in a way, who could blame them – it was almost certainly the first time they had been able to do it to an opponent all season.
It was impossible to deny that Wycombe had earned their right to gloat a little as well – not only had they dominated physically, their football had also had far more confidence and belief to it than us.
I missed the first few minutes of the game, but caught a remark within the first few seconds after I started receiving the stream about how Wycombe had made the better start and the next few minutes were to confirm that as our defenders made the home side's journeyman centre forward Uche Ikpeazu, who we were supposedly after when Neil Warnock was manager, look like Didier Drogba at his best, such was his physical domination of them.
Ikpeazu's success had a beneficial effect on the home side's belief levels and, by the time they broke the deadlock just past the half hour mark, it was hard to argue that it wasn't well deserved. The goal came from a corner gained down our right after Leandro Bacuna did one of his occasional disappearing acts from his right back station and when Jacobson drilled over one of his usual fine dead ball deliveries, centre back RyanTafazolli towered over Filip Benkovic to nod in at the far post.
Benkovic had been brought on for his long delayed first team debut when Morrison suffered what may have been a ligament injury in his foot and the easy way in which he was beaten by Tafazolli encapsulated a very rocky first fifteen minutes or so for the Leicester loanee who went on to improve a little after that.
All City had to offer by way of first half retaliation to their enthusiastic hosts was a dribbler of a shot by Harry Wilson from twenty five yards which caused home keeper Ryan Allsop no problems at all.
Wilson was heavily involved during a short spell at the start of the second half when City suggested they had it in them to get back into the game, but the fact that the Welsh international's right foot is not as good as his left one was conclusively proved twice in a minute when, first, he slashed the ball high and wide from about eight yards out after Allsop had parried a shot by Sheyi Ojo, once again mixing too much inconsequential stuff with the occasional moment of high quality, into his path.
Wilson was then sent through in the inside right channel only to shoot some distance wide with his right foot, but he was tripped after the shot by a late challenge on him by Jack Grimmer for what should have been a penalty. However, referee Leigh Doughty who, seemingly, was officiating in his first match at this level and performed as if he did not want to get into peoples bad books by doing something that might upset anyone chose to ignore it.
City's slight, and brief, improvement did not have the desired effect and things got worse for them when veteran Gareth McCleary was left with only an isolated Bacuna to prevent him from crossing. McCleary was always a favourite of mine when playing Football Manager about ten years ago because he was two footed and could deliver a fine cross. Therefore, I was expecting the worst as he was preparing to play the ball into the middle and when the pass came, it was a beauty which allowed Wheeler to exploit the big gap between our centre backs and head past a helpless Smithies.
One of the two subs Neil Harris had waited a long time to bring on, Junior Hoilett, nodded in a cross by Ojo via an upright three minutes into added time, but, like Will Vaulks' effort in added time at QPR nearly a year earlier, it was a pointless goal which changed nothing – City had been well beaten and things have come full circle for our manager who tonight finds himself under, if anything, more pressure than he was after the dismal defeat at Coventry five weeks ago.
Nobody would have thought City could reel off four consecutive wins following that insipid Coventry display and, having taken those twelve points, I wouldn't have believed anyone could have foreseen that, in less than a month, all of that pressure would be back on the City boss.
However, that awful defeat by Swansea would appear to have affected the players more than it seemed at the time, because, since that game, there's only been one, rather fortunate, win over Birmingham and then three consecutive losses – tonight, it didn't look to me as if the players weren't trying, more that they seemed almost resigned to their fate.
A miserable night for Harris was completed when he was shown a red card following referee Doughty's failure to penalise a Wycombe defender for a clear foul on the ineffective Robert Glatzel – assuming he's still in the job, our manager really could do with a win at Rotherham on Saturday, but our really poor record against sides near the bottom of the table this season suggests otherwise.
Usually, even in the most dismal defeat, there are an individual performance or two which can be clung to as a slight positive, but the worrying thing was that I don't think anyone could look back at their display with satisfaction.
Morrison should be absolved of criticism because I didn't see him do anything seriously wrong during the brief period he was involved, while Smithies didn't add to his recent collection of bloopers and had no chance with either goal, but, apart from that, there was nothing – it's normal for the manager to bear the brunt of the criticism after a showing like this, but the players should have had much more to offer against a team which had found life such a struggle in the Championship before now. However, as one of our players went down writhing with a feigned injury once again or were caught offside for the umpteenth time, all they could do was look sorry for themselves.
Can I just finish by saying piss off to 2020 and wish readers a 2021 which is an improvement on its predecessor – it cannot be any worse can it?