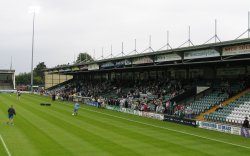 At least we didn't lose this one. Only just mind. James Collins headed home a cross as the 90 mins came up and City dramatically came away from Huish park with a draw.
That could have been a winner if Robert Earnshaw's effort a minute or so earlier had gone in rather than hit the post.
City lined up Margetson, Croft, Collins, Page, Vidmar, Langley, Boland, Kavanagh, Parry, Thorne and Campbell in a 4 - 4 - 2. On the bench was Warner, Gabbidon, Barker, Bullock, Weston, Lee and Earnshaw. Of the subs Only Barker and Earnshaw were used.
City opened the scoring early on. The Bluebirds had possession in attack wide right and a cross into the box found Richard Langley who scored. It did not last long though, City's defence allowed three goals past them in the first half, the first Yeovil goal to bring the sides level came from Gavin Williams as he was allowed the time to place a superb curling shot from 20 yeards into Margetson's bottom right hand corner. He should never have been allowed the time and Margetson will feel he could have done better with a shot from that distance.
5 minutes later and again City were punished for not closing down quick enough on the 18 yard line. This time a rasping volley from Bartosz Tarachulski was too hot for Margetson to handle and it was 2 - 1. Again the attacker had time to pick his spot.
City drew level much to the anger of the home fans. A long clearance downfield was watched by players and fans alike and in a surreal moment it dawned on Andy Campbell that he had virtually half the field in which to run unchallenged after there was no offside flag. From our vantage point it was impossible to tell if he was offside but Yeovil fans thought so. The linesman didn't agree and he allowed play to go on. Campbell then did the right thing by continuing play and thumping the ball through the Yeovil keeper to make it 2 - 2.
The half was coming to a close when City again were sloppy in defence. A looping cross was being watched by Gary Croft, he was about to head it out for a corner when Margetson clearly called for Croft to leave the ball. I assume the keeper thought it would go out but it didn't and the Yeovil winger gratefully accepted the ball that Croft left and pulled it across goal for Adrian Caceres to delicately skip the ball past Margetson.
Yeovil will feel aggrieved that they did not win the game. They did create the best chances with Margetson making two superb stops in the second half. One low to his right and the other blocking a thunderbolt drive that was the last shot of the game. That would have pinched a win for Yeovil just seconds after Collins had scored for City.
Prior to James Collins' late equaliser Earnie had come on and livened up the attack. He replaced Andy Campbell in the front line with Campbell moving to left wing to replace Paul Parry who was subbed (he came off afte a painful challenge, hopefully not serious).
Campbell and Thorne did not quite click, both had good ideas but not at the same time. The timing was out. Earnie was certainly sharper and he showed good control to beat the keeper but the ball hit the post. The ball looped up and it was just too high for Thorne to capitalise on the rebound.
I thought that Willie Boland was excellent in midfield, Collins was fearless in defence and he got a goal as well.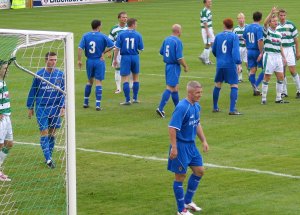 Numbers in defence, but they have to tighten up
The defence in the first half were very voiciferous, the keeper and the two centre halves were constantly shouting at each other but it will need to be improved to stop attackers from getting time on the ball near the penalty box. In the air they missed nothing, but they have to improve as a unit.
The suggestion is that Gabbidon will get the starting place with Page when we play Crewe in 10 days time. Whoever plays in the back 4 and with whichever keeper they have to tighten up.
Full time in front of 2438 supporters Yeovil 3 - 3 Cardiff City.