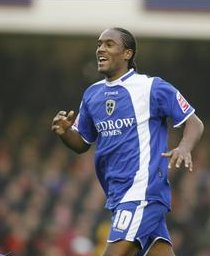 A goal at Highbury for Cameron
From an Arsenal view, the game was decided inside 17 minutes as a classy Robert Pires double with lightning speed build ups had City on the ropes. The Gunners were then able to cruise in a lower gear and, at times, gave Cardiff a passing and movement lesson to which we can only hope to aspire.
However the Bluebirds deserve plenty of plaudits for the way our patched up side never gave up, showed tremendous spirit and resilience, almost grabbed a shocked lead inside 30 seconds and recovered to take the game to Arsenal as best they could.
By final whistle, City had put more efforts on target than the hosts, grabbed a late Jerome consolation to send us wild and even came within a whisker of grabbing a dramatic equaliser with the final action of the game. All this as almost 7,000 travelling fans backed them all the way and provided a raucous ovation. We could never match Arsenal's silky skills and pace, most of the Premiership can't do that either, but City more than compensated in sheer willpower and effort. Well done lads, you did us proud and made it a day to smile about.
This was a day anticipated from the moment the draw was made but, unlike our last major outings from the Principality to big stadiums with Wales in San Siro or then Old Trafford, this one didn't disappoint. Up at 5am in Barry, meet up at 6:30am and away by 7am in one of three coaches at The Lansdowne for the 1pm kick-off, it was a long day. Forty-five coaches of varying quality headed to Narf London along with two train football specials, fans on other normal services, plenty going by car and a few flying in from various places too hoping that fine newspaper - The Daily Sport - would be accurate with their headline proclaiming "Arse Fear Cam Shafting" - it tickled us anyway.
The M4 was thankfully quiet. Our only delay was waiting for Amanda to have a toilet stop in the services (would you use the coach toilets after 50 men before you?) but what was she doing in there for so long?
It was cold and we hit snow by Berkshire as the coach singing went to Bluebird gold with "In 1927 in the Merry Month of May" (even though we know it was April really), "Tiptoe Through The Grange End" and, of course, "Bertie Mee talking to Bill Shankly" who'd not heard of the North Bank Highbury but was well informed about the Cardiff aggro ... allegedly.
Arriving in London, snow was heavier in bursts and there was evidence of upton an inch falling as we travelled around the North Circular but it was only on roofs. We saw the new Wembley stadium arch stand out against the heavy grey skies and then we arrived in London and down Holloway Road but being dropped by Drayton Park just before 11 by the scheduled City pubs.
The area is hardly exclusive, quite drab and decrepit. It was more akin to Splott or Riverside and same goes for the pubs available to us. One impressive, awesome sight, was Arsenal's new ground - the Emirates Stadium - just 300 yards or so from Highbury which looked simply fantastic.
With thousands of City fans emerging on a handful of pubs, the area was way too congested. Fans spilled onto the freezing streets and the option became to try and fight your way to the bar, queue for ages and pay £3 a pint and go to the off licence and grab a tinnie for £1, the "off-ie" have never had it so good! A few of us went in search of less crowded pubs and settled on the Holloway Road where we had warmth, plenty of seats and even games of draughts to play. Lovely!
We headed to Highbury. In its 93rd and final year before mostly being converted to apartments and the pitch into a luxury garden, it's still highly impressive inside and outside. Stewards made a half-hearted attempt to undertake a Membership card check, they forgot their laptops and were easy to by-pass. A futile exercise.
The structure is excellent. I like how it's in a residential area, some away entrances / exits come out between houses. Inside, you see a classic ground with which we're so familiar, usually on our television screens than in the flesh. Traditional stands but modernised.
The North Bank, a big home end behind one goal facing the Clock End where City fans cut an impressive sight with hospitality boxes above us probably vibrating to our noise levels. The jumbotron in the corner between us and the East Stand also had a countdown clock showing Highbury closes in 121 days and so whatever it was hours, minutes and seconds. The West Stand is a double-decker affair, City in a downstairs section with low roofs and pillars along the way - it was just like being at Ninian in there!
Team news starting with City and what may be the Championship's smallest squad were down to absolute barebones and inadequate cover on the bench for their toughest challenge. Paul Parry and Willie Boland were injured, Michael Ricketts has (for now maybe) gone back to Leeds, West Brom refused our season loan talisman Koumas to play and Alan Lee was on the bench pending the likely formalities of his transfer to Ipswich are being completed.
Having opted for a long striker in Cameron Jerome and decided to employ Neil Cox to help as a third centre-back with defensive duties, team selection was as easy as could be given we had no other options. City went with Alexander, Weston-Loovens-Cox-Purse-Barker, Ardley-Ledley-Whitley-Cooper, Jerome. Subs included three players who appear to have no future and little involvement with the team in Darlington, Mulryne, Koskela alongside Lee (leaving next week) and Margetson (told he will not get a new contract this summer).
Three Welshmen and two foreigners in our 16 but contrast that to Arsene's Arsenal featuring 15 foreigner's and Kerrea Gilbert, a young right side defender getting a rare outing, being the only Englishman and Brit. With Champions League not resuming for a while, their Premier League challenge over for the season and, as defending F.A. Cup holders, Wenger rested the likes of Sol Campbell, Thierry Henry and Jans Lehman but it was still a stronger than normal side for a cup game against lower opposition.
They lined up with Almunia, Lauren-Senderos-Djourou-Gilbert, Pires-Silva-Flamini-Reyes, Bergkamp-Van Persie. Subs were Poom, Hleb, Larsson, Lupoli, Owusu-Abeyie, By my reckoning, that's 3 Dutch, 2 Franch, 2 Spaniards and 1 each from Cameroon, Switzerland, Ivory Coast, Brazil, Estonia, Italy, Sweden, Belarus and England. Top marks to Peter Karaoke for having a go at Denis Bergkamp for being German until City fans around him reminded him that he was Dutch. An easy mistake to make, I'm sure eh Pete?
Of 18 British teams to visit Highbury since March 2005, Chelsea won there and Manchester United had got two nil-nil draws. Everyone else had lost, most by a couple of goals at least. Thirteen of the visitors had failed to score. Not quite Mission Impossible but as good as. For City do so well speaks volumes for Dave Jones and his players.
It was jam packed in the City end, naturally, my seat was taken by someone else standing in front of it. It was so crammed, neither they or I could move anywhere else and a few of us stood diagonally to catch the action.
As both sides came out, City got a brilliant reception as they came to applaud us, the fans singing, "we want our trophy back, we want our trophy back". City were in all blue, Arsenal in that less-than-appealing red wine kit they're using to commemorate their final Highbury season but worst fashion faux pas went to their keeper, Almunia, in a mismatched orange shirt and red shorts. It looked like he got his kit from a sports shop bargain bin.
Most of us thought City would be ok for the first two minutes but were worried about the other 88. Those fears were proved as it took Arsenal all of 7 minutes to get in front but not before an almighty let off in the first 30 seconds as Ardley placed a ball over central defence, Jerome beat the onrushing Alumnia, his flick cleared the keeper but also went over the goal. A slighter touch and it would have been the most amazing start.
Other than that, City were wholehearted and committed, they weren't nervous in that respect but definitely paid Arsenal too much respect from the start and, notwithstanding the home side's incredible pace and movement, they were not getting in with big challenges.
The home team's passing, Bergkamp being its heartbeat, was fantastic. Whilst City and Championship sides tend to be deliberate, slow and put in a lot of passes going nowhere in particular, this was the exact opposite. The two goals were perfect illustrations of the type of football we just don't come across at our level but which enabled Arsenal to grab that early stranglehold on the game.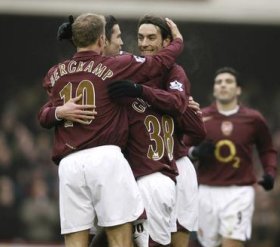 Bergkamp, Van Persie and Gilbrt celebrate with scorer Robert Pires
7 minutes - ball in City's half and Arsenal started a move that seemed to involve everyone except their keeper with the outstanding Bergkamp being the key influence with one touch passes across, inside and back around City players. Once centre of goal, Bergkamp fed Reyes who ran at our central defence but once they got to him, he switched the ball right to PIRES whose pace and ghosting run found him unmarked as he fired across Neil Alexander and inside his far corner. He had a look of arrogance about him as if to suggest, that was too easy. It was too because they make it easy and we don't come across football like that.
City competed and battled, giving as good as they got and possibly having more possession but not doing much with it until Arsenal again showed us what a simple, beautiful game it is. The second goal was even classier.
17 minutes - Robin Van Persie, Looven's mate who grew up two streets apart in Holland, was on the right in his own half, turned and slipped a couple of challenges and there was Denis Bergkamp running through the middle making himself available. Van Persie rolled it to him, Bergkamp fed it wide to Pires who had overlapped everyone and his finish was very similar to the first goal, straight across Alexander.
Home fans chanted "easy, easy, easy" and coming off the back of that 5-1 pasting at Reading, there's no doubt we were fearing the very worst at this stage. However City got to half-time without any further damage inflicted and very few problems. A couple of corners faced, the central defence winning challenges and Alexander having to watch one effort from Senderos go wide was the extent of it. For City, a couple of corners won came to nought but Jerome won a header from an Ardley free-kick which looped harmlessly over but could have caused trouble.
Phillippe Senderos was booked early for a foul on Ledley but City had Loovens and Whitley carded before the interval. Whitley's seemed harsh as he tangled with Reyes, he was more the defender than aggressor but his was the 3rd time that the ref had spoken with him. More seriously, it was also his 10th booking of the season and so a two match ban beckons.
It was easy enough for Arsenal and, with little meaningful action, City fans concentrated on signing a repertoire to a hushed Gunners support instead including "Highbury is a library", "You're French and you know you are", "Two up and you still don't sing" and with gestures, "Do the ayatollah" and "Let's all do the Seaman" amongst others. It was enjoyable despite the scoreline.
Half-time: ARSENAL 2 CARDIFF 0
With the Clock End bursting at the seams with City fans, I sneaked around and watched the second half in the West Stand. It was almost as full there and we had to stand in aisles but everyone was on their feet including Cameron Jerome's and Joe Ledley's relatives just by me. City came back out with a different attitude where they denied Arsenal time and space to concentrate on their own strengths instead. Their organisation and resilience saw them win the second half doing themselves an immense amount of good.
City probably had more possession than the home side and the game was played out mostly in front of the Clock End with City attacking that way. Arsenal were still comfortable enough but City's effort was commendable.
Indeed, Cardiff had encountered just three moments of slight concern all half. Van Persie was the main threat as he flicked a header from a corner onto the topside of the bar and then made Alexander save well with a 20 yard angled drive, another effort went just wide but that was pretty much it. One of their subs, Owusu-Abeyie, went on a couple of terrifying runs with unbelievable pace, City snuffed out an end product but it was terrific to watch someone go like that. How fast was he?
However Cardiff certainly had their moments. Jerome snatched a first time effort wide, a scramble that Arsenal struggled to deal with saw Barker head over the crowd and Purse miss flicking home as he stretched out having got behind their defence by a fraction. City won corners and pressed hard.
Their was controversy as Senderos could have seen his second yellow card for a foul on Jerome charging forward. He was lucky with that but luckier still when he purposely threw his hands up as Whitley went for a volley, the ball hit his hands. It should have been a penalty, it would have been most weekends, but I guess it was too much to expect one at Highbury against Arsenal.
Changes were made, one enforced and one being a last throw of the dice. Midway through the half, Glenn Loovens in whom City are currently unable to agree a permanent transfer from Feyernood as they argue over a fee, went off injured apparently with a hamstring pull that may keep him out for some time. Toni Koskela came on in midfield as City re-shuffled the pack only his 3rd City appearance, the other two being substitute appearances last season. Alan Lee replaced Kevin Cooper for the final 5 minutes.
Still City kept coming, with the crowd baying them forward. Cameron Jerome showed why he's rated as he beat an offside trap, tore down the right and cut across the box for Kevin Cooper but his goalbound effort was blocked for a corner as it deflected off a defender having to throw himself in the way. Then came our closest moment as Barker hit a diagonal 30 yard ball which Neil Ardley superbly touched first time over a defender for Jeff Whitley to show equally superb technique to hit a 20 yard drive that Almunia just finger-tipped away at full stretch.
With time running out, it looked as if the game was dead but City got a deserved consolation and set up a tense finale. Good work again by Jerome won a corner which Ardley sent over, Cox flicked on, CAMERON JEROME was first to react and turn on goal, a combination of keeper and defender tried to keep it out but the ref ruled that the ball was over the line. No goals in 7 for CJ but now he's netted in 3 successive games, that was his 14th of the season. City fans went mental celebrating a goal at Highbury, a rare event for any team so why not?
It left about 4 minutes playing time including added time and, boy, were Arsenal fans and team alike tense and nervous during that spell, who'd have thought that before kick-off (and, more so, after 17 minutes)? Again, they showed their quality. City and all Championship sides would probably try to win a throw, pass to the keeper, belt it downfield or run a channel to get it to a corner and keep it there. Not Arsenal, they played two or three minutes of keep ball passing it though and around City who couldn't get near them - they probably put 20 to 30 passes together before we had a sniff.
The added time was also disrupted by two City idiots who let us all down inside the ground. One allegedly threw a coin at Almunia before the goal and, I believe, was arrested. Another came on from the Arsenal end, from near the dugouts, ayatollahing all the way to the Clock End to confront Almunia. There was a nervous moment when you wondered what he was going to do as he confronted the keeper but it was just verbals then he was arrested too. Hope you're proud of yourself boys, hope you're banned for life, your club doesn't need you.
As play resumed, City launched one last attack down the left, the ball broke loose for us, Barker fired the ball over, Ledley flicked on with his head and there was Whitley and Lee both closing in on Almunia. The keeper charged out to get there first but dropped the ball and I honestly thought we were going to stroke it home but he showed fantastic recovery reactions to smother the ball at the second attempt falling as Whitley aimed his boot and accidentally gave him a kick which he milked slightly. As the game restarted, that was the final action.
After all that, we were just a fraction away from an equaliser but what a terrific second half effort by City. The Arsenal support were slightly relieved but, for all City's efforts, it was a relatively routine victory for them but, all things considered, City should be very proud of their effort against all odds. Alan Lee was first over to applaud us, seemed to be more of a goodbye wave, the rest followed a minute later and congratulating Arsenal and then each other. I'm not sure if anyone truly shone for City but nobody let us down and they all more than played their part. For all our deficiencies, nobody can ever side this team are not triers.
It completed a personal hat-trick. Three visits to Highbury to watch Cardiff City in cup games and I've always come home seeing us fall to a plucky 2-1 defeat! Maybe we'll go one better at Emirates, I just hope it's not 20 years before we get to go there.
The trip home was excellent. It took a while for our coach to get away but we stopped for a while in an Irish bar in Slough and sang all the way back from there to South Wales. My voice is hoarse, others lost theirs before we got back. I'm under instructions from Lloydey to mention he whitewashed me 3-0 playing pool on the mobile phone but that doesn't count, does it? Highlight had to be Roger from The Lansdowne singing on Do Re Mi on the mic. The coach veered and he completely disappeared from view as he fell down the inside steps - recreating DelBoy at the bar in Fools and Horses. Brilliant! How's your bruising Rog? And why did we spend so much time singing Spongebob Squarepants?
Back home about 8:30 - that was a bloody long and knackering day but I enjoyed it from first to last. Now back to real business, Burnley at home next week. New faces seem to be on the way, some may well be gone? It's never dull with City, is it?
THE COST OF BEING A CITY FAN:
Tickets (2): £70
Programme: Sold Out - I thought that only happened at Ninian!
Food/Drink: £45
Coach (x2): £34
Car to/from coach: £ 4
All costs were for two today
Total for game: £163
Total for season-to-date: £1,965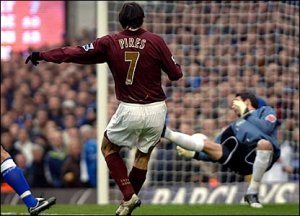 Pires scores. 1 - 0 to the Arsenal

Report from FootyMad

Two early goals by Robert Pires gave FA Cup holders Arsenal a comfortable passage into the fourth round, despite a late reply by Cameron Jerome.

Cardiff's effort did at least make their 6,000 travelling supporters proud, but some of those fans may wonder why manager Dave Jones did not bring on Alan Lee as a second striker before Jerome's strike. They did not chase the game until the closing minutes.

Cardiff were without Paul Parry and Willie Boland while on-loan midfielder Jason Koumas missed the tie because West Brom did not want him cup-tied.

City deployed Neil Cox to protect their defence, with teenager Jerome as a lone striker in front of four midfielders. Jerome is joint top scorer in the Championship, but this was a frustrating afternoon for him until his late goal.

Arsenal rested Jens Lehmann, Kolo Toure, Sol Campbell, Aleksandr Hleb, Cesc Fabregas and Thierry Henry while Pascal Cygan was suspended.

Arsene Wenger fielded two 18-year-olds in an experimental defence - Kerrea Gilbert and Swiss centre-back Johan Djourou - and they were rarely tested until the closing stages.

Jerome had a chance inside the first minute, running on to Neal Ardley's pass to chip inches too high. That proved a costly miss.

Pires punished Cardiff five minutes later. It was a typically intricate Arsenal goal. Dennis Bergkamp and Gilberto built the move, Jose Antonio Reyes threaded a pass through and Pires finished with a low right-foot shot.

Darren Purse and Glenn Loovens, coming forward at free-kicks, tested Arsenal in the air but after Jerome's early effort, a dead ball move always looked Cardiff's best hope.

Another sweeping move brought Arsenal's second in the 17th minute. Robin van Persie broke from inside his own half and found Bergkamp, who slotted a perfect pass through for Pires to finish with another low shot.

Arsenal could have killed the game in the next ten minutes. Neil Alexander palmed away Reyes' deflected near post shot, Gilberto curled a shot wide and Philippe Senderos headed wide from Bergkamp's whipped free-kick, with Alexander stranded.

Arsenal then went into cruise mode. They passed the ball sweetly but without their earlier urgency. Cardiff continued with Jerome as their lone striker but they could not keep the ball long enough to find him.

The Gunners continued to dominate. Alexander saved van Persie's shot after another neat build-up and then foiled substitute Quincy Owusu-Abeyie who had skipped past two defenders in a 40-yard sprint. Van Persie then flashed a header against the bar from Pires' 56th-minute corner.

Alexander then rushed off his line to thwart van Persie as the Dutchman burst onto Pires' pass and Bergkamp lobbed over.

Cardiff pushed Ardley and Kevin Cooper forward to give Jerome more support as the half wore on and Arsenal's makeshift defence began to quiver. Jeff Whitley forced a brilliant save from Manuel Almunia with a 20-yard shot after a corner.

With time running out, Cox headed down Ardley's corner for Jerome to poke home. It was a goal Cardiff had threatened for a while. Jones sent on Lee for the dying minutes and the visitors piled forward and Almunia was forced to save from Whitley in stoppage time but it was to be the Bluebirds' last chance.

So Arsenal have still to lose an FA Cup tie to a lower division side under Wenger - and they already have an 11th FA Cup success in their sights.

Arsenal - Robert Pires. His two early goals effectively ended the game as a contest as the Frenchman produced one of his best displays of the season.

Cardiff - Darren Purse. A rock at the heart of the Bluebirds defence, the former Birmingham City stalwart ensured City were not embarrassed.


External Reports
Arsenal World
Wales On Sunday