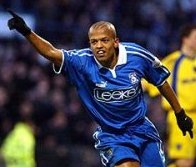 www.sportingwales.com

Earnie 29 and counting (30 if you add his Wales goal).
Goals by Young (or was it an o.g. by Smith?) and Earnie (who else?) made it a highly satisfying evening that all those with the Blue faith.
Brentford is one of the shortest and quickest trips City have this season, a 140 mile drive straight up the M4 to West London, Griffin Park a couple of hundred yards off a motorway slip road. Traffic flowed well at rush hour and made Cardiff (Gate) to being parked by the ground in 2 hours. The home side's welcome claim-to-fame of a pub on every corner of the ground wasn't quite as expected as all stopped serving by 7pm, thanks!
On the pitch, City were forced into running repairs after the weekend bruising but fair encounter at Stockport. Rhys Weston (back strain), Gavin Gordon (broken nose and facial injuries) and Steve Jenkins (recovering after his near fatal on pitch incident and concussion) were all absent.
Lennie's answer was to revert to the lopsided 4-4-2 system with Alan Mahon as a left, sometimes floating, wide man to supplement the midfield trio of Boland-Kav-Bonner and Earnie plus Thorney in attack. Defensively, Gary Croft was asked to switch from left to right, Chris Barker moved from central defence to left wing back with Spencer Prior returned after being dropped then further alienating some and winning sympathy and support from others following outspoken comments.
The Bees were hardly in good shape either. Although they had players returning from injury, the early season league leaders had fallen away. In mid-table with only the faintest hope of making the play-offs, they are 9 points off the pace. They had won only 2 of their previous 9 league matches and only scored 2 goals in their last 5 games before blanking again against City.
Scoring is their 2nd biggest problem with their goals tally 10 or more inferior to play-off teams but their biggest problem, in the eyes of their fans, is their owner Ron Noades who has not developed the club for various reasons and sold many of their better players over the past year making life a struggle for a team under the shadow of Premier League Chelsea and Fulham. His plans to move from Griffin Park are not universally popular either.
Their ground highlighted the run down state of the club. It's hardly changed in the 20 years or so I've visited the place. A double decker behind one goal (seats upstairs, terrace downstairs), unbelievably dark and dismal looking old wooden-type stands on both sides of the pitch. City fans were in one section of a stand but the bulk were on an open terrace behind the goal City defended in the first half. Rounding it off are possibly the worst floodlights in the Nationwide League casting shadows across the pitch in some places, some areas light, some areas dark. They seemed to operate by candlelight, a quarter of the bulbs not working.
It's often said that football is a game of two halves but this was the exception, this was a game of one half, forget the first half. Griffin Park is the latest temporary home of London Bronchos rugby league team and the pitch was affected, it looked worn and was badly rutted and bobbly, especially through its middle. It undoubtedly affected City's game and several times, we saw players hopelessly mishit balls with the pitch to blame.
City made the early headway with a shot and corner inside the first 2 minutes but Brentford responded instantly when Hutchinson fired wide then their 13 goal top scorer Rowan Vine turned past Prior wide inside the area and fired a rising shot across goal which missed Alexander's far post by a fraction with most City fans thinking it had gone in.
The rest was low on entertainment, poor on quality. Kav's goalbound drive was deflected over, Boland's pot shot shots were snatched wide and Smith was the only keeper required to make any saves as he beat away a smart Mahon drive near half-time and a low Kav shot at him with the final kick of the half.
City were struggling to make any progress again in the final third. Play often broke down, Thorne appeared hesitant challenging inviting crosses, Mahon getting sucked in taking away City's width too. Bonner and Boland, especially Bonner, stood out as they tidied up and brought City forward. Cardiff showed signs of starting to hurt The Bees closer to half-time with those Mahon and Kav efforts giving hope.
Brentford looked the poor attacking unit that their record shows they are. City's defence took time to come to terms with their new line up but improved as the half progressed. Prior winning over the crowd bringing his experience into play (for a welcome change) after a nervy opening but eclipsed by Scott Young's passing masterclass. I swear he hit a 40 yard crossfield ball with City attacking on the outside of his left boot - I hope the cameras captured that for posterity!
Half-time: Brentford 0 City 0
The interval entertainment came from some South East based City fans who displayed a huge "Noades Out" banner in the City end in return for some free beer and a lift home, who can turn down an offer like that? As they did, most of the ground burst into applause. Cardiff fans have never been more loved by Brentford! It was quelled by stewards who declared the banner 'offensive' and removed it to be collected in the main office after the game - it wasn't, not by City anyway!
City returned fired up and focused and playing towards the City fans, it was as one-sided as City blew the home team apart and turned it on to show that they are serious for promotion and have desire. Lead by Kav, an attacking force at his best who was cutting through the home team. Mahon showing passion and appetite we love in City players and Earnie causing mayhem, Brentford spent the entire period on the backfoot and were made to look like the worst defence we have seen all season, credit to City for that though.
Kav burst through, won a throw and shot wide in the opening 30 seconds which set the tone. On 52 minutes, City took a deserved lead through a freak goal that SCOTT YOUNG will claim but may well be finally noted as an own goal by Peter Smith, Brentford's keeper.
Boland's persistence won a free-kick wide 20 yards out, it was taken short to Kav who dinked a ball into the middle. YOUNG met it in the crowd and headed downwards, Smith was beaten and the ball smacked the post, came off it, bounced out and with Earnie charging in, the ball hit Smith, bounced back towards goal and over the line. Who cared who scored as long as it was City, fantastic! The goal was so important that it was heralded by Concorde taking off from Heathrow and circling overhead.
Smith was serenaded with "Are you Seaman in disguise?" and seemed to lose confidence as he kicked balls out of play, threw balls away hurriedly (knocking over one of his players at one point) and in a general panic. His defenders were hardly inspiring confidence either, they were tall but slow and ponderous and looked woeful every time City applied pressure.
The worry was that Cardiff were struggling to kill the game when Brentford were there for the taking and falling into an old habit of defending with 8 or 9 men on the rare occasions the home side get forward giving an overcrowded City penalty area.
When chances arrived, City failed to be ruthless, a fault they're often criticised for. Brentford got bodies in the way, just, City's final ball let them down. Mahon, Kav, Earnie and Young each had efforts wide, blocked or saved whilst Earnie was frustratingly flagged offside every time he raced onto a though ball, quite often too quick for the linesman and he then missed a great chance to finish it.
Latching onto a Mahon through ball, he raced clear on goal on the left. Closing in on goal, his first shot was poor as he hit it straight at Smith when either side of him would have finished things but had a second chance as the ball came back to him but his effort was cleared off the line for a corner.
It was getting a little worrying for Earnie now on his biggest goal drought since winning his place back in the side early in the season - he hadn't scored for 3 matches!!
He wasn't to be denied and, on 78 minutes, more Mahon persistence saw him intercept and nod on for EARNIE in a near identical position to his previous run, if anything a little wider, but make no mistake whatsoever as he controlled, advanced then spanked home his 25th league goal, 29th league of cup of the season and 30th including Welsh internationals low inside Smith's near post.
Earnie somersaulted, the all yellow kitted players celebrated, 1,200 or so City fan danced and hugged, all feeling the relief of having a cushion for the closing stages. City fluffed the chances to go on to record an even bigger win as they broke through almost at will on either side of the pitch but especially the left.
Earnie could have netted another as he was clear but decided to square for Thorne who wasn't alert enough to react, shots were blocked, Mahon made the keeper save twice and there was time for Prior to showboat with an outrageous dummy on halfway to switch play with some thinking it was genius, others thinking he hadn't meant it at all. I think the others were right!
Brentford broke forward a couple of times but Alexander & Co were equal to them snuffing out everything leaving the home side with no real sight of goal except a couple of long range efforts into the upper tier of the stand behind the goal and one which sizzled narrowly over.
City made late subs bringing on Leo (for Mahon who was excellent in the second half, 100% effort and persistence) then Ginge Collins came on for Prior, a move clearly designed to give Prior a personal ovation which he got from everybody, Prior smiled and ayatollahed. It was probably Prior's best display in a season where he has undoubtedly been poor. All I can suggest is if that how he responds after booing and criticism, we really should do it more often!!!
Final whistle brought another prolonged celebration with players and fans applauding each away at an away game for the second successive Tuesday. City's 9th away victory of the campaign was vital as fans knew Crewe were recording a comfortable home win whilst Oldham finally lost for the first time on their travels at The Wurzels. For those who fell Wigan are still fallible, they drew at home in collecting their 80th point of the season reducing the lead at the top to a mere 13 points!
City remain in third, a point behind Crewe with a game in hand, and boosted by those 7 points in 3 away games, a great return, whilst Crewe collected just 3 points in 3 home matches. We've also opened a 4 point gap on Oldham and Bristol City with a game in hand on both too.
It's going to be a tense final few weeks and 12 matches for City but their fate is now entirely in their hands and while the football may not always be pretty and flowing, they seem to be showing the right mentality at the right time with just 1 defeat in 10 league games and undefeated in the last 7 with 13 points collected.
Ninian Park now becomes the focus of the drive with 3 of the next 4 games at home and, after three successive draws, it is vital City produce some winning football. It really is time to get behind the lads and support them all the way


Report from FootyMad
Brentford succumbed to their second successive home defeat when they were beaten 2-0 by automatic promotion hopefuls Cardiff City at Griffin Park.
The game got off to a dull start but on four minutes a corner by Graham Kavanagh was flicked on at the near post by Spencer Prior which was easily saved by Brentford keeper Paul Smith.
Two minutes later at the other end a Rowan Vine strike curled just wide of the post with Bluebirds keeper Neil Alexander beaten.
Ten minutes before the break an Alan Mahon strike was well saved by the home keeper, Paul Smith.
After the break the Bees came out with more purpose and on 48 minutes a Michael Dobson corner from the right was met by Ed Hutchinson and his close-range header flashed just wide of the right-hand post.
The visitors opened the scoring on 52 minutes when Mahon's free-kick was played to Kavanagh, his cross into the box from the right was met by Scott Young in the six yard box, whose header hit the right hand upright and rebounded into the net via the keeper's body.
After 69 minutes Cardiff almost extended their lead when Robert Earnshaw broke clear in the box, his first effort was blocked by Smith and following up his goalbound effort was cleared off the line by Andy Frampton.
Twelve minutes from time Cardiff scored their second goal when Earnshaw latched on to a Mahon throughball and buried a right-foot effort into the net from 15 yards giving keeper Smith no chance.
On the stroke of full time the Bees almost scored a consolation when a neat Martin Rowlands lay off found Matt Somner and his left-foot effort rolled just wide of the target.

External Reports
The Western Mail
BBC
Brentford FC
Beesotted.com