http://mauveandyellowarmy.net/
This interesting piece appeared on a Cardiff City messageboard this week – I say "interesting", but I daresay there will be those who would be bored witless by the sort of analysis which appears in it, so, if you are one of those people, I'll try to summarise what was said in a few bullet points.
City are doing better than many expected them to.
Using the measure of expected goals (I'll not bother trying to explain it, but it is something that is applied equally to all twenty Premier League clubs, so, essentially, it is just another way of comparing us to our rivals), we are better in terms of expected goals scored than five other teams in the league and better when it comes to expected goals conceded than five as well. Combine the two and we are above "Fulham, Huddersfield Town, Burnley, Newcastle, and perhaps surprisingly, Brighton and Hove Albion" – the fact that, Brighton apart, we are talking about sides in the relagation scrap proves that, whatever it is, expected goals is a fairly accurate way of measuing the quality, or otherwise, of a side.
It's not new news that we are the worst passers of the ball in the league, but the analysis confirms what should be apparent anyway – we are not interested in possession for the sake of it, with field position seemingly being considered more important than possession of the ball . To quote the article, "they give the ball back a lot because they are maniacally committed to getting the ball up the field quickly at the expense of maintaining possession.".
Defensively, we set ourselves up higher up the pitch than I for one thought we did and do our best to get the ball off our opponents as soon as they enter our half – I'll not go into the full details of the analysis, but, essentially, it seems we're fairly happy to let our opponents get crosses in because it is believed we'll win most aerial challenges that our central defenders face.
The piece concludes our overall plan is generating "just enough" to keep us above the drop zone and I would suggest that the word just is the important one there – adages like "sailing close to the wind" and "flying by the seat of our pants" came into my mind as I read this part!
Today, the suggestion that the whole edifice of our better than expected position is built on sand and could easily come tumbling down around us if our levels drop ever so slightly was given credence in a 0-0 home draw with Huddersfield Town which would have been labelled very poor if it had been played in the Championship.
Regular readers of this blog may have noticed that I am/was not enamoured by our 2014/15 season. The football was unremittingly dull as an expensively assembled squad showed what were, at times, painfully low levels of ability – I always say that, in terms of value for money, that was the worst City side I've seen.
There were so many matches that season which could be put forward as candidates for our worst game of this decade, but the one which stands out for me was a 0-0 draw with Brighton at Cardiff City Stadium in February 2015 in which both sides could only manage a single shot on goal.
Well, today was almost as bad as that match. The reason that it wasn't was that Huddersfield just about managed to raise it above that woeful level by directing two of their fourteen goal attempts on target – they also would have, almost certainly, scored if referee Lee Mason had stuck to his original decision to give them a penalty, instead of allowing linesman Stuary Burt (City's man of the match by a country mile!) to persuade him to change his mind.
As for City, they offered nothing apart from a penalty shout for an alleged foul on Junior Hoilett in the first half (it was up the other end of the pitch from me and, to be honest, I've not got a clue as to its validity) and three off target efforts, none of which I can recall at the moment.
I mentioned earlier that we are a team which doesn't seem to be too bothered about passing the ball inaccurately, but when you are at home to a side that had lost its last nine games, a team that is eight points behind you at the bottom of the league, a team whose manager was labelling the match as a must win one with four months of the season left, then you would expect us to have managed more than 39 per cent possession.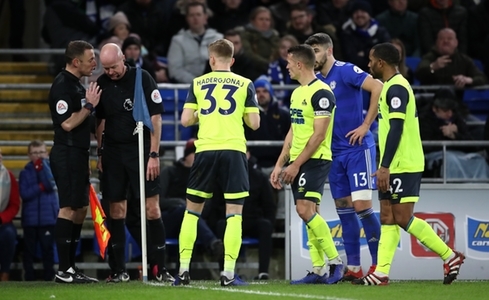 If I'm being honest, I'm surprised to see that we had as much of the ball as that given how much we struggled to put any coherent football together. I've said before on here that when we are bad, we look the worst side in the Premier League by a distance – today was one of those days, as the side which the table says is the worst in the league were comfortably better than us in most facets of the game.
I've read a lot this season about how Huddersfield have been playing pretty well, but are being let down by their lack of goalpower and today you could see the accuracy of that claim. This is not to say that Huddersfield were that good, but they were still able to waste very promising positions with poor delivery of crossess, while centrebacks trying pot shots from forty yards offered eloquent proof of a side that has lost faith in its strikers (I believe there has been only one goal scored all season by a Huddersfield forward).
However, that seems like riches indeed compared to what City had to offer as an attacking force. Huddersfield's problems when it comes to finding a forward capable of putting the ball into the net are brought into focus by what Callum Paterson has done for us as a makeshift in that position. Three of his four goals have been major factors in bringing about 60 per cent of the wins we've managed this season and it's probably true to say that, without his efforts, we would be in something very close to the situation Huddersfield find themselves in today.
This time though, hampered by an injury which almost meant that he missed the match, the Paterson gambit (playing a Scottisih international right back at centre forward) looked to have run its course – we need a proper striker desperately.
Neil Warnock should be very grateful to Paterson because it means that he has, largely, been free of criticism regarding what, for me, has always been a big error on his part – I labelled the failure to bring a real striker (as opposed to a Bobby Decordova-Reid/Lee Tomlin number ten type attacker that he struggles to integrate into the team) into the club this summer as a disgrace on a messageboard this week and I see no reason to change that opinion now.
I should emphasise that the criticism of our manager which follows comes from someone who fully acknowledges the superb job he has done overall as City boss. With us being nominated as the team of 2018 by Paul Merson and Mr Warnock being picked as Manager of the Year in an article I read recently, his place in club history is assured.However, this shouldn't exempt him from criticism and a starting line up today which, apart from the loanees Camarasa and Arter, could have been a City side from this time last year must only lead to more questions about our manager's work in the transfer market in 2018.
Sorry for repeating something I've mentioned before on here at least once in recent weeks, but City spent a reported £36 million in transfer fees alone in 2018 and not one of the six players we spent that on got on to the pitch for us today. Therefore, as fans grow restive at the lack of signings in this window, there's a part of me which can't help thinking that it might not be a bad thing, given what has happened over the past twelve months.
So far, all of the transfer action has been about players leaving the club and, with us almost wholly reliant on Paterson when it comes to the striking positions, it has to be commented on that in the last seven days, Gary Madine (an unused sub for Sheffield United today) and Lee Tomlin (a scorer for Peterborough) have left the club on loan, while Anthony Pilkington (who created one of the goals in Wigan's 3-0 win over Villa) had his contract cancelled by mutual agreement. For me, based what he did for City in the past four seasons, the last named in particular could, and should have, played some part for us this season.
With three forwards who have had some degree of success at Championship and, in Pilkington's case, Premier League level all being involved elsewhere, it was revealing to see Rhys Healey, returned from loan after scoring nine times for Mk Dons during his loan spell there, being the forward who was brought on when Neil Warnock decided to take Nathaniel Mendez-Laing off.
Now, just as at Gillingham last week, I thought Mendez-Laing looked like the one player who might provide an attacking spark with a moment of magic, but the real talking point here has to be what sort of message Healey's introduction sent out to Decordova-Reid and Josh Murphy who arrived at the club for a combined fee of £21 million in the summer?
The two expensive newcomers spent the ninety minutes sat on the bench and, while they can hardly be called spectacular successes since arriving at Cardiff, the two of them have offered a more likely way of us finidng a goal than someone who was thrown in at the deep end having been playing at a level three below the Premier League for five months surely?
Indeed, with Paterson dispatched to the right following Healey's introduction, we were treated to the bizzare sight of our striker taking a long throw in as Aron Gunnarsson joined the fifteen or more players in the penalty area contesting for the ball as it dropped our of the sky.
It was desperate stuff on one of those occasions when Neil Warnock's Cardiff team can look clumsy, musclebound Goliaths trying to come to terms with sprightly and mobile Davids, except this time Huddersfield weren't particularly sprightly and mobile – we just made them look that way.
With Victor Camarasa a long way short of the standards he set at Palace and Leicester (to be fair, he was affected by injury like Paterson and only played because he said he was fit enough to) , City's midfield had one of their headless chicken days when poise and composure are completely absent and so it was hard to be too critical of the the players in front of them, because they were reduced to chasing hacked balls forward in the hope that a defender might make a mess of the simple defensive tasks required to deal with such clueless play.
Thankfully, City were pretty solid defensively as a clean sheet was kept for the third time in four league matches. Of course, luck was on our side when the erratic referee was persuaded that Florent Hadergjonaj had fouled Bennett rather than the other way around – by that I mean it's so rare to see a ref change a decision like that, rather than as a comment on the merits of the penalty shout (from my view about a hundred yards away, it looked like Bennett had fouled Hadergjonaj with the question being whether the offence had occured in the penalty area or not).
Apart from that though, we defended a series of Huddersfield corners (more than a half of their goals this season have come from set pieces) well and, under different circumstnaces, I'd be saying that we could head up to Newcastle to play a side that really struggles in front of goal in home games with a degree of confidence. However, unless Camarasa can come up with a worldy like the one he got at Leicester, we're going through a phase where it's hard to see where the next goal is coming from and our midfield especially will have to play a lot better than they did today for us to get anything from the game.
At least it was a good day for my two Rhondda teams as Blaenrhondda FC and Ton Pentre recorded 3-2 away wins. I would have been better off nipping over to Whitchurch to watch the former's win which keeps them well in the chase to finish second in their league, while Ton's win at Undy Athletic takes them to what I think is a season's high twelfth place in the sixteen team Welsh LeagueDivision One with Pontypridd Town and Taff's Well amomg the sides below them.
Once again, I'll finish with a request for support from readers by becoming my Patrons through Patreon. Full details of this scheme and the reasons why I decided to introduce it can be found here, but I should say that the feedback I have got so far has indicated a reluctance from some to use Patreon as they prefer to opt for a direct payment to me. If you are interested in becoming a patron and would prefer to make a direct contribution, please contact me at paul.evans8153@hotmail.com or in the Feedback section of the blog and I will send you my bank/PayPal details.