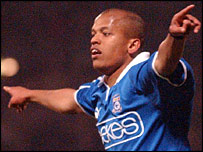 Nerves were raw as fans experienced every emotion but it was ultimately a night of relief and celebration as City claimed their first home win in 5 matches and the living legend, Sir Robert of Earnshaw, somehow not even Lennie's first choice at the start of this season, hit his 33rd goal to become Cardiff City's all time leading league and cup scorer in one season beating a mark set by another legend, Hughie Ferguson, 75 years ago. Earnie however missed a penalty and other sitters to stay on 29 league goals, 1 short of Stan Richards 1947 best league tally for the Bluebirds.
They're all big games at this stage of the season but this was massive being the first of 2 home games in 4 nights before City take an enforced 15 day break due to international action. Even so, I couldn't help feeling Lennie's pre-game cry of "win these two games and we're up" was very premature and the latest example of many reckless comments the most experienced manager in the game can be attributed with this season. Still, not as bad as him ignoring fan claims all season for width by telling us City could get promoted without wingers and 4-3-3 when we now watch them play 4-4-2 with two "out and out" wide men!
City started with a new face and other changes. The new signing was Gareth Ainsworth, the mad golfer, website master and rock/blues singer with a summer tour lined up who also finds time to play football as a right winger. Newly signed, allegedly for £50k on an initial short-term deal from Wimbledon, Ainsworth was Sam's last ever signing for The Dons (at a cool £2M). He has suffered injuries (a common theme with many City signings, it seems) but had been a recent First Division regular. Wimbledon's handful of fans - literally a handful - mourned his departure and it was easy to see why as "Wild Thing" Made Our Hearts Sing and became an instant hit with an eye-catching man of the match display full of character.
With Rhys Weston suspended and Scott Young suffering another back problem, the back four was rejigged yet again. Chris Barker returned to central defence where most now want to see him alongside Spencer Prior making his 500th career league and cup appearance. Gary Croft who seems to switch sides every other match lately was back on his preferred left side with Steve Jenkins returning to action after his life-threatening experience at Stockport a couple of weeks ago.
Midfield was adjusted too with the hapless and, no doubt, unhappy Mark Bonner making way for Ainsworth. Bonner must feel sick after overcoming injury, waiting patiently for his chance and taking it fully as one of City's better performers recently, he can have done little more. It must have hurt more to miss out against the club where Bonns started his career but football is cruel. It is perhaps also fair to say City have still failed to look like impressive and genuine promotion contenders in the last 6 games with Boland-Kav-Bonner perhaps not dominating as we expected as recent failures testify.
Blackpool came to Parc Nin 6 points adrift of the play-offs with 9 games remaining but some belief that they could gate-crash. With Steve McMahon as Manager and some talent including John Hills at left wing back, the vast experience of on-loan 37 yr old Colin Hendry making a final loan appearance in central midfield alongside 34 yr old Mike Flynn, Richie Wellens a 22 yr old midfielder linked a few times with the Bluebirds and the 30 goal strikeforce of Scott Taylor and John Murphy, they had to be respected. The bench also had familiar names with Dalglish (son of Kenny) and McMahon (son of Steve the boss)!.
City fans also feared history with Blackpool holding the "distinction" of being Cardiff City's biggest bogey opponents of all. The Bluebirds had beaten The Tangerines just 4 times in 39 attempts over 40 years and not at all in the previous 20 encounters since Ely boy, Wayne Curtis, hit a winner back way back in 1986.
The Bluebirds kicked off determined to put that record right with Ainsworth leading the way by hitting a great cross in the opening 30 seconds, winning a corner which the away team scrambled clear just after then Peter Thorne went agonisingly close with a 25 yard left foot dipping volley that had Barnes beaten - all that action in the opening 2 minutes!
It was a tempo that City couldn't maintain and the teams swapped efforts, Bullock shot over the bar from an opening, Willie Boland shot wide from 25 yards not realising better options outside him, Murphy made Alexander save, Kav did likewise with Barnes then Ainsworth blocked a Wellens effort as the game settled and was becoming a real battle.
Blackpool were unable to match City for pure quality and skill. They defended in numbers but kept two up front and made up for natural deficiencies and impressed with a very crisp passing and movement style which hurt City several times and made our slow and measured (or slow) approach, still looking for a pass to many, look laboured by comparison.
City were forcing the better openings but were helped by Colin Hendry who was looking long past his 'sell by' date as Peter Thorne beat him every time in the air, his passes were misplaced and his headers were not decisive which was crowned when he almost headed an own goal under pressure from an excellent Alan Mahon cross. Shortly after, Mahon was dangerous with a superb low cross behind the defence that caused real panic then he missed the far post and Earnie by a fraction with a low cross-cum-shot across the face of goal.
Blackpool had served warnings, Taylor coming close with a rising shot that just cleared Alexander's bar, before he struck a massive bodyblow by putting Blackpool ahead on 37 minutes to delight the travelling 153 Blackpool fans in front of him in the 11,788 crowd but it was yet another goal which asked serious questions about City's defending.
A sharp move broke through City's essentially 2 man central midfield, Richardson found it easy to get space and cross, Murphy found it even easier to climb above Prior and nod down and I haven't a clue where Barker was or what Alexander was doing glued to his line again as SCOTT TAYLOR, totally unmarked in acres of space, simply bundled the ball over the line off his body.
There was a feeling of "here we go again" as Ninian was numbed into silence but although struggling to make headway, City tried hitting back, Thorne (now struggling as Hendry left him to Flynn to mark) put a header straight at Barnes, Earnie was blocked and Mahon blazed over but with a half-time deficit looking inevitable, City hit a massive psychological blow by grabbing a lifeline equaliser.
As the ball broke in midfield, Kav, for once, helped it on quickly. Earnie spun and turned the ball into Willie Boland's path breaking through. Boland's effort from 20 yards wasn't strong but he kept it low and heading to a corner forcing Barnes down to save. The keeper couldn't hold the ball and first to react was, who else?, but SIR ROBERT EARNSHAW, pouncing and knocking the ball gleefully into an unguarded goal from 8 yards to break the record, send fans into raptures and somersault himself into the record books.
From the restart, City almost grabbed the lead too and Hendry and Co got into a right mess at the back, the ball looped in the air, their defence was motionless and Thorne stole in to head a fraction wide.
The ball was then smacked onto the Grandstand roof by a last gasp clearance, I hope someone has got it down for Earnie or the club to keep.
Half-time: CITY 1 BLACKPOOL 1
City game back in good heart, took the game to Blackpool and made it count. On 50 minutes, Kav's inswinging corner was deflected on by Barker and as it was running wide, ALAN MAHON charged in and smacked an unstoppable left footed hammer back across goal and inside the far post. Ninian, the players, and fans were now buzzing.
Cardiff weren't perfect, anything but, but they were now in the ascendancy and should have blown Blackpool away but they, and Earnie, missed easy chances to finish the contest.
The first moment of disaster came on 55 minutes, when Steve Jenkins making a strong impression and showing the type of link-up play with Ainsworth that we haven't seen for a long time, put Ainsworth free on the right.
Ainsworth needed no invitation and knew exactly what to do as he stormed down the line, cut inside the area and then across a panicking defender who brought him down - penalty!
Ninian buzzed as Earnie stepped up for a club record equalling 30th league goal of the season but the ref stood over the ball and stopped it being taken for no obvious reason then we gasped as Earnie swaggered up slowly in his inimitable style, the keeper diver the right way as the shot flew low and wide bouncing off an advertising hoarding behind the goal. Moments later, Earnie blazed wildly over the bar trying too hard to make amends.
Earnie's night of history then became one of mini-horrors as he and City missed more guilt-edged chances. A Thorne nod down was pulled over the bar but the bounce for Earnie was high then Thorne dispossessed a defender and his low cross inexplicably went under Earnie's boot when he was 4 yards out. Ainsworth, on another great run, found Earnie in the box but he struggled to find the space to shoot and put over. Kav got in the act too after Earnie caused mayhem, the ball ran free but Kav hit the underneath of the Grange roof and then Thorne headed wide when it looked a little easier to finish.
It all made the final half-hour unnecessarily tense and those chances were so nearly punished at the death when Wellens, very impressive all night in my opinion and I could see why City hold an interest, put Murphy in, the defence froze, Alexander was like a rabbit in headlights on his line and Murphy's shot went across goal missing the far post by a fraction.
Four minutes added time felt like 14 but with Bonner on to stem Blackpool's midfield forays for Mahon and Leggy playing down the clock brilliantly by hitting balls to the bottom corner when he replaced the cramped or foot injured Jenkins late on, City were never threatened again.
Final whistle blew on one the better games seen at Ninian and the celebration was epic. Players and fans alike hugged, a huge pressure was lifted by breaking the home "hoodoo", it was a deserved win. Sam hugged every player, none more than Ainsworth who made a massive impact. Undoubtedly a character, and we've seen precious few of those in recent times for City, he was ayatollahing and dubbed the new Robin Friday by some.
It was his football and sheer passion that won fans over and got him a deserved man of the match. His play is perhaps one dimensional but what a dimension as he puts his head down, charges down the line and past players but unlike a certain Josh Low, is able to put over quality crosses or cut into the area with menace. He also works hard, tackling like a demon and throwing in his body where it hurts to break down Blackpool moves but his enthusiasm and challenges are of the style that can also get him into trouble, someone comparing that aspect of his game to Fan Zhiyi and I can understand why.
City weren't perfect, Gary Croft didn't play well on the left, Kav's set pieces were too often appalling (why does he continually hit the first man and why do we bother with short corners?) and his "long" throws are a joke (they are like 9 iron or sand wedge shots as they loop in the nearside area and easily dealt with). The defence particularly through the centre, causes concern (Prior remains the worry for me), I wish Willie Boland was able to get the ball in the air and pass better than he does to go with his amazing work ethic and we all want to see Thorne be more authoritative and get stuck in once inside the area but their collective enthusiasm, passion and style ultimately got them through.
It was a vital win in more ways than one as Crewe had a good 3-1 win at Plymouth (the home side had some bad luck as they hit the Crewe woodwork 4 times) and Oldham drew away. Bristol play away Wednesday night before City are home again on Friday night and with the fans on a high as they left Ninian, I'm sure they'll all be back with many extra supporters to.

Report from FootyMad
The Bluebirds came from behind to earn a deserved win and keep their automatic promotion hopes alive.
The Seasiders took a shock lead when John Murphy headed down to an unmarked Scott Taylor in the six-yard box and he prodded the ball into the net off the near post.
Two minutes before the interval Cardiff got the goal their early play deserved when Seasiders keeper Phil Barnes could only parry a Willie Boland drive and Rob Earnshaw raced in to hammer the ball into the net for his 33rd goal of the season.
That goal for Earnshaw broke a 76-year-old Cardiff City record held by Hughie Ferguson from the 1926-27 season.
"It was good to break the record but the main thing was a victory," Earnshaw commented.
"I should have got a second but I hit the penalty too well and it clipped the outside of the post."Before that penalty which was given after new boy Gareth Ainsworth had been brought down in the box the Bluebirds had taken the lead in the 50th minute.
Graham Kavanagh flighted over a corner kick which Blackpool failed to clear and Alan Mahon raced in from the left to send a crisp shot into the far corner of the net.
Blackpool had chances to equalise particularly a minute from time when Taylor was wide when well placed.
Steve McMahon was disappointed that his side had nothing to show for their efforts.
"The equaliser just before half time was a killer but if we continue to play like that we will be there or thereabouts at the end of the season.
"I changed the formation slightly and it threw Cardiff for a bit, but if Taylor had scored with that late chance we would have had the draw we deserved."It was an impressive debut for Ainsworth who made a number of penetrative runs down the right flank as well as dropping back to do a fair bit of defending and it was the former Wimbledon player who was brought down in the box in the 57th minute for the penalty that could have settled City's nerves.
On Friday the Bluebirds are home once again when Mansfield visit Ninian Park but they will be happy that at last they have laid one of the longest bogeys in football, as they had not beaten Blackpool in 19 attempts spread over the last 17 years.

External Reports
BBC
Western Mail