http://mauveandyellowarmy.net/
In what I believe to be a first in this blog's history, I'm going to begin a match reaction piece by talking about a referee.
Steve Martin had already officiated in a match at Cardiff City Stadium this season before yesterday's 0-0 home draw with Millwall. He was the man in charge for our 2-1 League Cup win over Portsmouth back in August and, having checked my article on that match, I made no mention of him in it. As I like to think that a referee has to be plain bad or very good (not sure the latter's ever happened mind!) if he is to get a mention about his performance on here, I assume he was like most refs of our matches in that Portsmouth encounter - he was someone who I did not deem worth mentioning in a positive or negative way.
A look at Mr Martin's career record tells you that he is an official on the way up and one game in League One apart, all of his Football League games this season have been at Championship level.
He has taken charge of other City matches in the past. He was the man in the middle for our 3-0 defeat at Preston last season, but there is nothing in his previous dealings with us to mark him out as one of those officials I dread hearing is going to take charge of one of our games (there is only man who does that to me currently and you only have to read my piece on our 1-0 defeat at Birmingham in 15/16 to get his identity!). In fact, after giving us two penalties in a 3-2 win over Blackpool in 14/15 and the last minute spot kick by which we won 4-3 at Derby back in February, I'd say we'd done alright by Mr Martin up to yesterday.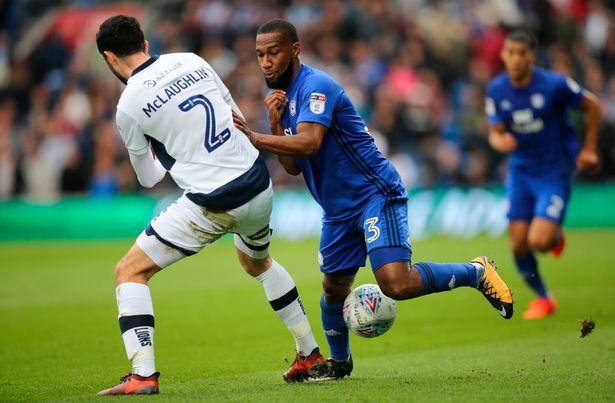 I noticed that last week Mr Martin took charge of the game between Wolves and Preston which finished in a 3-2 win for the home side after he had awarded a controversial penalty to Wolves and saw fit to issue seven yellow cards (two of them to Preston's Alan Browne). The official was criticised by both managers after that match and, playing amateur psychologist for a while, I wonder if his performance yesterday was a consequence of that?
Whether I'm right or wrong, Mr Martin found himself in a similar position yesterday with both managers singling him out for criticism, but the difference this week I suspect was that he left the field at the end of the game to a chorus of boos from the home support – apparently, Neil Warnock pointed to the stands as Mr Martin walked off and asked him if he was enjoying the applause he was getting.
I'm sure anyone who was not at the game (and quite a few who were I would guess) is now expecting me to go off on a rant about how Mr Martin was instrumental in denying us a win yesterday, but not a bit of it – the key here for me is that Mr Martin was criticised by both managers and it's my opinion that Millwall's Neil Harris was as justified in finding fault with the ref as Neil Warnock was.
For me, Mr Martin was as bad for Millwall as he was for us – indeed, our opponents may have had more grounds for finding fault with him than we did! I reckon if that game had been played at the New Den and it had panned out exactly as it did yesterday, Mr Martin would have got the same reaction from the home fans as he left the pitch!
Our manager said that Mr Martin started the match poorly and got worse. I know what Neil Warnock means there because it struck me that he began a game between two physical sides by letting all sorts of things go – there were some pretty obvious fouls by both sides ignored, but as things wore on, Mr Martin found himself having to blow his whistle more often and it was then that his performance really starting going downhill I feel.
The problem for me was that Mr Martin consistently favored the defending side in his decision making and, as long as professional football has been played, defenders soon realise that an official is favouring them and so start to push the boundaries that bit further. The best referees make decisions based purely on what happens in front of them and do not cater for whether it is an attacker or defender he is considering penalising.
It's equally true to say that a referee who consistently takes the side of attackers over defenders is getting things just as wrong as Mr Martin did, but at least such an approach would lead to a more watchable game of football than yesterday's frustrating encounter was.
That word "frustrating" goes to the core of things. I felt frustrated at the final whistle yesterday and a proportion of that emotion was directed at a very poor referee. However, if I'm being honest with myself, I've got to admit that more of that frustration was down to the fact that, not for the first time in recent home games, City's performance level fell well short of the standard required for a team which has ambitions of a top six finish.
I stick by what I said about last week's win at Middlesbrough being a very significant result because it offered proof that even though we can look very, very ordinary at times, there are qualities within our squad which place us in the top six, or even the top two, when it comes to certain parts of the game – sadly, yesterday offered more proof that we can look relegation material in other facets.
In recent seasons, City fans have had to get used of their team coming second in the battle for possession of the ball. My initial attitude towards this was that it was a sign of serious failings within a squad which was, at the time it first started happening, a very expensively assembled one.
I've modified my approach somewhat since then in the face of results, both with City and in the wider football world, that show conclusively that possession of the ball is not the be all and end all when it comes to deciding the outcome of a match. However, this leopard is too old now to change it's spots completely because I've always believed, and always will do, that control of the midfield gives you control of the game.
Yes, "control of the midfield" does not, necessarily, mean that you have a monopoly of possession, but if you are not dictating the tempo, pattern and flow of a match, then you become over reliant on things like set pieces, grit and individual moments of inspiration for your successes and I can't help feeling that, over the course of a forty six game season, you need more than that to give you a good chance of a top six finish.
Has a side with the worst passing stats in a league in the pyramid structure of the domestic game ever gone up or reached the end of season promotion Play Offs? I don't know the answer to that question, but, if there have been some who have, I'd bet you could count them on the fingers of one hand.
In the build up to yesterday's game the view was expressed that Millwall were a similar type of side to us – I agreed with that opinion at the time and feel it to be even more true having watched the two sides play each other.
Perhaps the clearest proof of this came in the possession stats as we, almost uniquely, found ourselves comfortably winning the battle for the ball – the fifty seven/forty three breakdown in our favour, according to the BBC, being riches indeed as far as we are concerned!
However, all that all of that possession did is provide more evidence than normal of something that was pretty clear anyway – we are not very good at passing the ball (certainly when it comes to passing the ball incisively anyway). It says so much that the only two passes we played all afternoon that opened up the Millwall defence, as keeper Jordan Archer was forced into impressive saves, were by a centreback (Sol Bamba) and a wing back (Callum Paterson).
The three centreback system we've used in recent matches has seen a big responsibility placed on our central midfield two and yesterday I thought Craig Bryson and Joe Ralls found it all a bit too much for them.
Bryson has his qualities (seen to good effect in scoring against Sunderland and in the win over Leeds), but can become a bit of a peripheral figure in a two man central midfield, while Ralls, who I believe has it in him to play defence splitting passes, is not yet the sort of player who can dominate games from the middle of the park at this level.
I have some sympathy with the two of them, because, with us still not playing the second striker the three centreback system can allow you to, we end up with something like a 3-6-1 whereby our central midfield is still undermanned because we have a couple of wingback/full backs and Hoilett and Mendez-Lange who, although they drifted in field at times yesterday, are, essentially, the sort of wingers Neil Warnock always seems to want in his sides.
I admit that there is not a great deal of evidence over the past two seasons to back me up here, but I still believe that a three centre back system can be an effective and winning way of playing for City, but I can't help thinking that the current version of it we're using leaves us top heavy in favour of wide players in the balance between them and those in central areas – something must be wrong when the central players in what can be a six man midfield at times are struggling in the way Bryson and Ralls did yesterday.
Millwall's away record is very revealing – they came back from 2-0 down to get a point at QPR, but, apart from that, they've not scored a goal in their other six away games. Despite this, they've still managed to get 0-0s at Bristol City, Preston and Cardiff and their three defeats have all been by a single goal at Forest, Wolves and Brentford.
Therefore, you'd think there was some justification in the charges I've seen that they were very defensive yesterday, but I'm not so sure about that. Yes, they were content to sit back in the closing stages, but I thought they looked to get forward much more than the visitors in our previous home game (another very drab 0-0) Derby were and I'd put their lack of away goals down to a lack of attacking pace based on yesterday, rather than an over defensive approach.
Millwall were better than us in one area where we tend to be strong – they won nearly all of the second balls that were going. Also, just like every side we play it seems, they were better than us at passing the ball in areas where space and time are at a premium.
Even so, Millwall's deserved point had something to do with a City display which had too many careless moments from individuals in it – Bruno Manga had one of those occasional matches that he is prone to where he makes simple errors that you'd never see from him on other days and, even the one player in the side, who was playing well as an individual in the first half an hour of the game, Sol Bamba, slipped up with an underhit backpass which left him very grateful for Neil Etheridge's speed off the line to block Steve Morrison's shot.
Those two individuals, along with a few others, are not in the habit of making the sort of sloppy individual mistakes we saw yesterday and City will play better at home than they've done in three out of their last four games, but the suspicion is taking hold for me that our fine start to the season was based primarily on the fact that our three forward players were in great form – of course, a defence which was giving hints that it might have the best goals against record in the league come late October also helped, but, even in August, our possession and passing stats were suffering in comparison to others.
Of course, getting Aron Gunnarsson (a player whose value to the side really does become clearer when he is missing from it) back will help things and I feel Loic Damour can be excused for wondering what he has done to cause his non use, even from the bench, lately. However, fundamentally, I think we suffer from an excess of a certain type of midfielder ("bread and butter players") and a complete absence of another type (a Barry Bannan or John Fleck – he's not the same type of player as those two, but Adam Clayton seems to be struggling to get a game at Boro these days, could we make a loan enquiry for him come January?).
Looking for positives, it's three clean sheets in four games now and we should be very grateful for that when you consider that during that time, we've only managed to score through Joe Ralls' penalty last weekend.
There was also a bonus in the form of a very encouraging first home appearance from Callum Paterson who played almost two thirds of the game after coming on for injury victim Joe Bennett – he wasn't immune from the sort of careless moment I mentioned earlier, but the good points certainly outweighed the bad as he made an immediate impact with a run and quality pass to present Junior Hoilett with what was probably our best chance and also showed the sort of qualities, when he outjumped Archer to head narrowly wide in the second half, that gave him such a good goalscoring record at Hearts.
Another very impressive display by Sheffield United on Friday means that we now drop to third, but with Wolves, Leeds, Preston and Norwich all losing, no great damage has been done by the two dropped points (and I see it clearly as two dropped, rather than one gained). However, to return to "bread and butter", we seem to have lost the knack lately of coming up with those type of performances that top six aspirants rely so much on – we either are good (e.g. Leeds and Boro) or poor, there are no "not great, but we did just enough to win" type games at the moment.