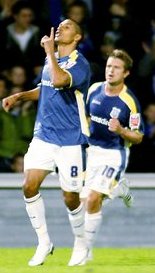 Bothroyd silences the critics
CARDIFF CITY produced their first home win since opening day to ease tensions as they hit back from the weekend reverse against Birmingham with a 2-1 victory more West Midlands visitors, this time in the shape of the other CCFC - Coventry City.
In a surprisingly open and exciting contest, The Bluebirds got home thanks to goals from their much maligned strikeforce as Jay Bothroyd grabbed his first City goal while Ross McCormack netted his 4th spot kick of the season to take his tally to 7. It left Cov to reflect on a late Dann consolation and the controversy of a 'goal that never was' as Freddy Eastwood thought he levelled it at 1-1 but had it cancelled a minute later as a linesmen correctly pointed out a handball in a Cardiff attack before The Sky Blues ever broke downfield.
It's been a rocky week. City's Carling Cup defeat in Swansea and the equally impotent first Championship defeat of the season to Birmingham sent financial markets into turmoil. President Bush appealed for calm and launched a rescue plan but once boss Dave Jones and skipper Darren Purse started a spat, after boss slated captain for his error in Birmingham's opening goal, that failed causing more global turmoil. However peace broke out, Jones played Purse and the world markets stabilised then rallied. And you thought it was all about a credit crunch and global debts eh?
However changes were made, Steve McPhail (after suspension) and Mark Kennedy (after injury) started with the out of sorts Paul Parry was rested to the bench partly due to a hamstring problem and joined by Miguel Comminges was given a break after suffering at left back. City were Heaton, McNaughton-Purse-Johnson-Kennedy, Whittingham-Rae-McPhail-Ledley, Bothroyd-McCormack. Dave Jones returned to old ways and never employed a single substitute but, for the record, they were Enckleman-Comminges-Gypes-Johnson-Parry.
Chris Coleman's named the same side for the 4th successive game in Westwood, Fox-Ward-Dann- Osbourne, Doyle-Tabb-Gunnarsson-Morrison, Eastwood-McKenzie - no surprise when they were unbeaten in those games although 3 were draws. They have a look of also rans about them, indeed their league record is now 3 wins, 3 draws, 3 defeats, so it was a game you expected Cardiff to triumph even if it was anything but easy.
In fact, when the half-time whistle blew, City had a 1-0 lead but it was simply luck that they weren't instead trailing. Coventry will be kicking themselves for failing to convert guilt edged chances in the opening 20 minutes as Cardiff were nervous, lacking confidence, making errors and being cut open. A well worked move saw Doyle yards out with only Heaton to beat but he stabbed an effort straight at him, the impressive Freddy Eastwood did likewise with a header and then Clinton Morrison fired wide from close range. All these moves and chances, uncharacteristically, were coming on SuperKev's side but he soon settled down. Coventry then wasted an even better chance as Steve McPhail turned back towards goal 30 yards out and, shockingly, put McKenzie clean through on goal, his dragged shot beating a sprawling Heaton but missing the far post by a foot.
City had rare moments but just weren't fluent and Coventry were buzzing. The diminutive Jay Tabb - I wasn't sure if the 21 on his back was his squad number of his 2' 1" height" - was in the thick of it as City took a while to get to grips. The tensions were reflected in the crowd which was just about the quietest I've ever heard 16,312 - the 312 in that probably representative of the Sky Blues following.
When Cardiff got forward, it was perhaps summed when McCormack and Bothroyd both ran wide of goal to chase the same through ball taking them both away from the goalmouth, Bothroyd got there but his ball across goal was then placed between the two banks of advancing City men and a golden chance disappeared. Some of the forward play was of Route One dimensions rather than pass and play, keeping it down, City understandably looking short of confidence.
McCormack, however, looked fantastic, running everywhere for the cause, looking dangerous on the ball and he seemed to have a shoot on sight policy dangerous on the ball making Cov's keeper Westwood produce a smart save, fire another just wide and an audacious 30 yard flick on the turn sailed just over. However he was also being blocked with distance shots when he had options but it was refreshing, at last, to see a City striker having a go instead of always laying it off.
Then, just past the half hour mark, double relief as not only did Cardiff take the lead with a quality goal but it was also JAY BOTHROYD opening his Bluebirds account. Bothroyd's career scoring record is not prolific but he has barely mustered a shot with City so far and had been feeling pressure. Maybe it was appropriate he netted against a former club whose fans were giving him some stick but what a goal.
A Coventry punt downfield, Roger Johnson headed back towards the Bob Bank touchline where, Peter Whittingham, sent away an outstanding waist high pass past Coventry defenders and BOTHROYD showed searing pace to get away and then behind Cov's flailing defenders and plant a low shot home in front of the Canton Stand. Pure quality. Bothroyd ran to the Grandstand followed but just about all the team, making a SHHHH! gesture - maybe to send a message to the critics. As long as he and City keep scoring, he'll be surprised to find out he won't have any - it's a simple formula Jay!
The goal was the boost both the fans and team required and City finally settled down to playing some good quality football but they really should have doubled their advantage as quick passing and movement involving half the side saw McNaughton send over the perfect invitation for Joe Ledley in front of goal but a defender and himself somehow saw the header sent over.
Half-time: CCFC 1 CCFC 0
The returning 'legends' this game were Damon Searle and Cohen Griffith and, once again, along with 75% of the ground, I didn't have a clue what the pitchside chat was with Richard Sheppard and themselves, I guess we'll get an adequate p.a. at the new ground.
Coventry returned early for the 2nd half with Marcus Hall replacing Ward, City returned with Darren Purse holding and stretching the back of his right calf, something he did several times in the second half, occasionally signaling to the bench as well but he lasted the full 90 and did well again although sponsors naming him man of the match probably had more to do with the goings-on of the past 24 hours as he wasn't quite City's best performer - choose between Kennedy, Bothroyd and McCormack for that accolade.
City's problem with a lack of scoring expertise is that they can't kill games when in the ascendency and that showed straight from the restart as Purse was denied volleying a free-kick that drifted across the box and was denied only by an outstanding Westwood tip-over then McCormack produced majesty on the edge of the box, produced skills of the highest order to turn Coventry's markers inside out only to hit his shot straight at Westwood with the goal inviting but what class.
Then came the moment that the game will perhaps be best remembered for - a goal that never was. City were attacking, I didn't initially realise there had been a clear handball by a Coventry defender (play was the opposite end of the pitch to me) but I certainly saw the linesman instinctively raise his flag only to drop it again, a couple of Cardiff players stopped. Coventry, though, quickly moved the ball through midfield to Freddy Eastwood who showed all of his qualities by enticing Purse into a lunging challenge, skipping around the outside of him then comprehensively beating Heaton inside his near post.
The ref awarded the goal and pointed back to halfway, Eastwood, his team-mates and the travelling support celebrated joyously but Dave Jones and a couple of City players were furious, a couple of them making their feelings known to the linesman. Coventry shaped up for the restart with howls of derision echoing about and it appeared that Cardiff players got the ref to speak to the lino. The chat went on for almost a minute then, incredibly, the goal was chalked off and City were awarded a free-kick 30 yards out from Coventry's goal.
The Sky Blues were now furious, Coleman almost losing it on the touchline, one of the men booked and it could have been worse as a City forward narrowly missed connecting with the free-kick as it dropped. Coleman was beside himself, City fans tried their best to cheer him up with booming chants of "You Jack B*stard". The right decision prevailed but what a mess around it.
I thought Coventry may have felt an injustice and that it would inspire them but instead it was Cardiff now finding their best form and taking the game to Coventry. Jay Bothroyd really should have buried his and City's tally when he was given a free header in front of goal but with all the goal to aim at, he nodded it downwards at Westwood who still showed outstanding reactions to clear with his feet. The next attack saw another move down the left find Roger Johnson, his effort on the turn hammered wide.
Coventry threw on their final two subs but still it was City pummelling them and perhaps it proved out strikeforce still isn't quite right as a succession of quality set pieces, crosses and moves produced little end result. Mark Kennedy who was enjoying himself sent over the ball of the night - a sizzling low ball which took out the entire Cov defence - but Bothroyd, somehow, failed to connect with it in front of goal only for City to enjoy their own let off when one of our central defenders (I suspect Johnson so Dave Jones won't name him!) dropped off Leon Best and allowed him a free header. Thankfully, he put wide when he really should have hit the target.
However with 7 minutes to go, it felt game over as another quality move saw Bothroyd slip the ball outside, when looking to shoot, to send Joe Ledley away who got bundled over. I don' know if everyone's the same but such has been the quality of ROSS McCORMACK' spot kicks, I don't doubt that he is going to net them. Sure enough, Westwood went the right way but McCormack hit it low, the power and precision ensuring Cov's excellent keeper was nowhere near it really. No more than McCormack deserved on a night where he was everywhere and truly shone. His 7th of the season before City have played 10 league games and he's now 2nd leading scorer in the Championship - who says we may not have a 20 goal striker ... as long as we keep getting penalties?!
That should have been it but Cardiff City just don't do easy wins, do they? Sure enough, 45 seconds to go, a quality ball sent wide, Marcus Hall sent over a fantastic cross and DANN headed home powerfully from close range. He was completely unmarked ... who let him go?
There were mini palpitations as 5 minutes of added time were found and Coventry sent in a mini bombardment of crosses and long throws but although City were guilty of dropping back and not pushing out on clearance, they dealt with it quite comfortably even if it was hardly a convincing way to close the game.
Overall, it was a great game to watch but it wasn't a great City showing. The players responded but a better side may well have put us out of sight with the glaring chances Coventry wasted in the first half. City's midfield still doesn't look as strong or efficient as it should be - I'd bring someone in yesterday if it were possible - and despite no qualms about the excellent showing and goals by McCormack and Bothroyd, Freddy Eastwood showed me they type of forward the City side are missing with his intelligent play in and around the box. I'm pretty sure he would have feasted on some of City's crosses and balls in the box and I do feel it may well hold City back in the long run.
For now however, the win is to be savoured, 7th and out of the play-offs by goal difference, behind 3rd by 1 win is not a bad place to be after 9 games and sending Chris Coleman away with Ali playing 'Hit The Road Jack' is divine. City, however, now need to push on starting with one final test before an international break this Saturday lunchtime at in-form Blackpool. It needs more of the same, three points please.
Report from FootyMad
Cardiff City edged out Coventry City 2-1 at Ninian Park despite a late rally by the visitors.
The Bluebirds showed two changes, with Mark Kennedy and Stephen McPhail coming into the side beaten by Birmingham.
After a frantic start in the wet conditions, it was Michael Doyle who went closest for the visitors in the seventh minute with a low shot that Tom Heaton dived to gather.
Freddy Eastwood almost opened the scoring in the 15th minute when he flashed in a point-blank header, but Heaton was well placed to save.
Two minutes later Clinton Morrison went through only to drag his shot wide of target.
Cardiff went ahead in spectacular fashion in the 31st minute. Roger Johnson won a defensive header to put Peter Whittingham in possession. He drilled a pass to Jay Bothroyd, who raced on before sliding his shot beyond Keiren Westwood in the visitors goal for his first goals in Bluebirds' colours.
Joe Ledley should have doubled the lead four minutes later, but he headed a Whittingham cross high over the crossbar from close in.
Marcus Hall replaced Elliott Ward at the interval and his misplaced header in the 47th minute went straight to Darren Purse, but his goalbound strike was pushed over by Westwood.
Coventry thought they had equalised in the 56th minute when Eastwood had the ball in the net, but referee Roger East disallowed the goal after talking to his assistant, who had earlier flagged for a Coventry infringement.
Bothroyd had a header saved by Westwood's legs as the Bluebirds pressed hard for a clinching second goal and when he slipped Ledley through in the 85th minute, the Cardiff midfielder was brought down in the area by Isaac Osbourne.
Ross McCormack stepped up to rifle home his fourth spot-kick of the season.
Scott Dann reduced the deficit in the 89th minute to leave the Bluebirds hanging on in the five minutes of added-on time.
External Reports
Coventry Official Website
Western Mail
Sunday Mercury
Coventry City Mad
Coventry Telegraph