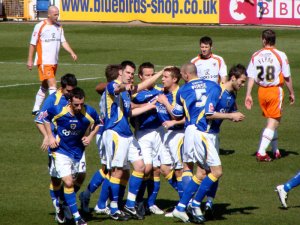 McPhail mobbed after his goal
Cardiff City, with all the swagger that comes from being F.A. Cup Finalists (got to love the sound of that), Towered over Blackpool despite injuries and changes eased themselves to the most comfortable of home wins with three quality goals, the opener a stunner, all with assists by prodigy Aaron Ramsey before declaring with more than half hour to go. That straightforward. Just imagine if we had strikers to help our cause! It completed the rarest of doubles over the North West side, a traditional bogey team, who only had a late consolation for their efforts and took City to 10 games unbeaten and into 10th place.
Play-offs dreams remain improbable but so was any F.A. Cup Final dream so who knows eh? For the record, City are 5 points away from that elusive 6th spot with a game in hand but 4 games to go and 3 on the road, they probably need to win the lot. However, the boys are now within touching distance of our highest league finish since the days of Jimmy Scoular, John Toshack, Don Murray and Brian Clark and breaking through the mid-table obscurity that has been our "norm" since returning to the Championship - what an amazing against all odds season this has become.
Had a nice pre-match bevvy in Canton but it was 'turf wars' as Billy The Badge found a rival from Brizzle (of all places) turned up selling Cup Final souvenirs on the streets. How can anyone buy off a Wurzel? Billy, Billy, sort him out!
Dave Jones' squad seems smaller than those who have fathered kids for alleged child neglecter Karen Matthews. The toll of 5 games in 15 days, Wembley semi-final included, took hold as out were Joe Ledley, Glenn Loovens (although he was on the bench) and Jimmy Floyd-Hasslebaink who along with Paul Parry's continued absence meant Steve Thompson was the only available striker at the club so Aaron Ramsey's 17th appearance saw him play in a forward role behind Thommo and means he has now played every position for City except centre-half and goalkeeper but yet again looked quality. Some baptism and education. Another boost saw Kevin McNaughton return to the fray.
City's side were therefore Enckleman, McNaughton-Purse-Johnson-Capaldi, Whittingham-Rae-McPhail-Sinclair, Ramsey, Thompson. The bench were Oakes, Blake, Brown, Loovens, Scimeca.
Success for Blackpool this season will be Championship survival and they looked to have achieved it with ease but this reverse means they have taken just 3 points of the last 18 and just 2 points above the drop zone with three games left, they will be grateful 2 of those are at home. Even though they were far from their best, they look to have enough in them to be back next season ... if we don't go up. Their side: Rachubka, Crainey-Southern-Gorkks-Barker, Hoolahan-Taylor Fletcher-Evatt-Flynn, Burgess-McPhee.
It now seems customary for City to grab an early goal and they did exactly that on 7 minutes. It also seems customary these days for Darren Purse to make basic errors and he started with a couple but got away with them to settle into a fine personal performance before our account was opened and what a stunner when it arrived. Attacking towards the Canton Stand, bright play on the left with Rae, McNaughton and Sinclair. The latter hit a fast high ball across the box, Thommo nodded back, Ramsey showed quality in chesting and laying into the path of Whittingham who shot was blocked and it seemed the chance had gone until THWACK, BIFF, KAPOW, STEVE McPHAIL hit an exocet of a left footer as the ball ran away from 25 yards or more. I never knew he had that power, the Blackpool keeper's dive was token as it fizzed across goal into the far corner. An unbelievable strike.
"83 minutes to hold on, that's 2 more than Wembley" was the quip doing the rounds by me and for much of the rest of the opening period, it did seem a little like that too. City were quite happy to play within themselves and in controlled fashion, Blackpool had quite a bit of the ball but never really got anywhere with it, the game largely became a midfield grind with McPhail shining for City and Wes Hoolahan, Blackpool's diminutive playmaker, popping up just about everywhere trying to inspire those around him but to little avail.
A couple of 'Pool shots were blocked, one trickled wide, a soft header found Enckleman and their most dangerous moment came when Johnson miscued a clearing header and Burgess tried to lob a close range header past Enckleman but found the keeper equal to it. You never felt Blackpool were going to score and, even if no significant chances came City's way, they always looked entirely comfortable and more likely to score again.
Half-time: CITY 1 BLACKPOOL 0
Another rendition of that Cup Final song and Ali issuing an appeal on behalf of Leighton James supposedly congratulating City of getting there but asking City fans to stop ordering late night pizzas to be sent to his house followed by another from Lee Trundle with his wishes that it stopped too and could we start sending him pizzas and pies instead and back they came with Blackpool making a double sub of Dickov and Fox for the lively Burgess and ex-Barry Town man Mike Flynn who hoped Tosh and Wales were watching him, they'd have been better off watching the grass grow.
Having largely strolled their way through the first period, City decided to up it a gear and had Blackpool Rocked (how many times does that one get used?) and consigned to defeat little more than 10 minutes after the restart.
It was 2-0 on 49 minutes and after great piece of football. A move built on the right featuring McPhail then saw him ride a challenge and switch play to the left with a sweeping pass to Capaldi, he tucked it back inside to Whittingham and continued to run for a return pass which set him free inside the box. Unselfishly, he laid the ball into the path of Ramsey who perhaps got too excited at the thought of his first City goal so sliced the ball but it turned out to be fortuitous as it ran loose off a diving Blackpool defender into the path of TREVOR SINCLAIR who had the simple task of slotting home in front of goal.
Perhaps it was just meant to be that Sinclair starting his 500th league game scored his first league goal for Cardiff City against the club for whom he made his first appearance 18 years ago - his debit provided by ex-City boss Billy Ayre -and remains an all-time legend.
City were now turning on the style. Johnson and Purse were taking it in turns to hit 30 to 50 yard crossfield balls to perfection, the link up play and movement of City had Blackpool standing back as if in admiration and the City crowd warmly applauding it. A smart move providing Darren Purse an angled free header at the far post but which was put straight into Rachubka's hands. A stunning passage of play which saw City toying with the opposition almost reminiscent of Leeds torturing Southampton back in the '70's for older readers saw play move back and fore with touches, turns and passes featuring a Thommo double pirouette on the ball (that has got to be on next week's Soccer AM showboating) and an audacious Kevin McNaughton flick over the defence that 'Pool were relieved to put behind. The resulting corner saw Purse win a strong header at goal but just unable to direct it on target.
Then it was 3-0 with a great counter-attack and further sweeping move, a great goal made to look easy as Ramsey picked up the ball inside his own near the dugouts after Dickov gave it away carelessly, a deceptive drop of the shoulders saw him get away from Blackpool players into yards of space (how easy does he make for that look?) and then feed PETER WHITTINGHAM charging down the right. It was still all to do but Whitts made it look simple as he took a couple of touches to control then drilled the ball home, precision and power, low into Rachubka's bottom corner. Easy, easy, easy, easy.
Blackpool looked set to be hit for 5 or 6 but the game and points were truly wrapped up and it's been a tough fortnight so Dave Jones brought on kid Jon Brown in attack for the final 25 minutes just after Blackpool introduced their final sub (ex-Wrexham man Andy Morrell - 4 strikers to our 1!), resting Sinclair and City effectively warmed down.
The final period saw Blackpool at their liveliest but it coincided with City almost coasting through it as a training session. Dickov was their spark and showed it's the first four letters of his surname are not there by accident as he yet again niggled through the game, seeming to want a battle with Tony Capaldi. Like Dennis Wise, I can't recall a time Dickov hasn't played against us and looked a muppet trying to stir up trouble.
His football was ok though and he was buzzing about, a warning came as he got wide of City's defence and his low cross with hit straight in the air by Purse, Enckleman doing just about enough to get a fist to it under pressure as it dropped under his bar. On 73 minutes, Dickov repeated the trick and this time to better effect as MORRELL stole in front of Roger Johnson on the 6 yard near post and glided a header past the despairing hand of Enks.
It wasn't the most comfortable or pleasant viewing for that final 15 minutes as it belatedly sparked some life into the visitors while City were unable to lift themselves again and never really looked like grabbing another on the break. At least it meant fans could chat about their potential Wembley arrangements. There were a few times that last gasp defending was needed to block crosses or shots while some of that shooting was pretty wayward leaving Enckleman a spectator anyway.
Overall job done with great style at times and very comfortable for the rest of it. It was one of those games where everyone was competent, the individual parts made for a very good team display with Ramsey again showing why his value rises with every kick but I'd say City's two best players were those who get the greatest stick in Darren Purse and Steve McPhail so was pleased for them.
A very pleasant afternoon even if we had to listen to that Cup Final song yet another time at final whistle that they want us to buy along with the limited edition embroidered cup final shirt, programme, ticket, scarf, foam hand, badges, flag, DVD, Clark's Pie(!). There may be a credit crunch but it's a licence to print money at Ninian Towers and we'll all gladly part with it..
Report from FootyMad

Cardiff City made it ten games unbeaten after doing the double over Blackpool for the first time in 40 years.
Stephen McPhail, Trevor Sinclair and Peter Whittingham netted for City and though Andy Morrell pulled one back for the visitors, the Bluebirds fully deserved their victory.
City took the lead in the seventh minute with a superb volley from McPhail.
The goal came from their first corner of the match and involved Aaron Ramsey and Steve Thompson before the ball was laid back to McPhail, whose strike flew into the corner of the net to give keeper Paul Rachubka no chance.
Despite being a goal down the visitors had started far livelier and Mike Flynn had Peter Enckelman stretching to palm away a low drive.
The Bluebirds were pinned in their own half for long periods, but stout defending by Roger Johnson and Kevin McNaughton kept the visitors at bay.
Ian Evatt's 32nd minute header almost caught out Enckelman, but he grabbed the ball at the second attempt and cleared the danger.
There were a few anxious moments for the home side as Johnson went down following a clash of heads just before the interval but he soon returned to the action.
The Seasiders brought on veteran striker Paul Dickov at the start of the second half, but it was Cardiff who went further ahead in the 49th minute.
Ramsey's mis-hit shot went to Tony Capaldi who crossed and Sinclair was on the spot to sidefoot home.
It was Ramsey who set up City's third in the 58th minute with a pass out wide to Whittingham. The former Villa midfielder took a couple of paces before drilling a low shot into the far corner.
Second-half substitute Morrell pulled a goal back for Blackpool when he diverted a Dickov cross home in the 72nd minute and the visitors suddenly began pushing the home defence back.
Despite one or two scares, the Bluebirds held firm to keep their faint play-off hopes alive.
External Reports
Urban 75
Wales On Sunday
The Times