Today's win over a Watford side who were looking for an 8th straight victory was just huge for Cardiff City.
After 30 mins Cardiff were 3 - 0 up. Bellamy opened the scoring after a searing cross field pass from Peter Whittingham. The skipper smashed home his second attempt to open the scoring.
Michael Chopra was next, he finished clinically after Olofinjana won the ball in midfield, Oli put Jay Bothroyd though and his precision pass was put away by Chopra.
Bothroyd himself scored the third. Bothroyd celebrated his return to the side with a sublime effort from 18 yards.
Then the walk in the park was over. Watford rallied and for the next 40 minutes controlled the game. Pacy in attack and strong in the challege they scored immediately to make it 3 - 1 through Buckley. The visitors missed a gilt edged chance when it looked easier to score and the half time break didn't change the flow of the game. The start of the 2nd half saw Watford score again, this time Sordell with the goal. City were rocking. Watford hit the post, had a goal disallowed and were looking the team most likely to score again.
But they started to run out of steam around 70 mins in and their play became less dominating and more aggressive. The foul count mounted. City players were dropping all over the field. McNaughton with a head injury looked the most serious but like he always does Kev bounced back.
Bothroyd was subbed on 61 mins suffering from cramp, Burke came on. Earlier Naylor limped off to replaced by Gyepes and the final substitution saw Rae replace an injured Peter Whittingham.
City had more of the ball and started to push forward again and secured the win when Gabor Gyepes scored from close range, not shirking out of a challenge Gyepes saw the ball cannon into the roof of the net.
Watford tried to come again but they were spent. Cardiff were able to slow the game, drag out the final minutes and do what Watford did to us. I must admit to some smug satisfaction after seeing Scott Loach have the last laugh at Vicarge Rd with the City fans and today it was the Bluebirds who were flying high and not 'The Golden Boys'.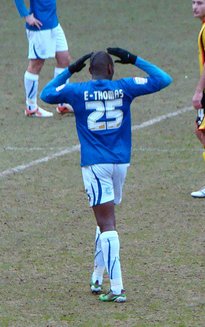 JET. Pic by Jon Candy
There was a debut for Jay Emmanuel-Thomas. A big strong player who looked like he could turn on ther pace. He was able to chest balls that would have gone over Kevin McNaughton's head but he had a languid side as well and you wished he speed it up a bit.
It was impressive to see City line up with Bellamy, Bothroyd and Chopra and even better to see them all score.
All supporters got their monies worth today with an entertaining game. City wowed us and scared us to death but ultimately produced a stunning result that takes the club just two points behind QPR. Rangers play on Sunday at home to Coventry.
Now they have a 10 day break before Reading visit the CCS on February 1st. City will have Aaron Ramsey available for that match. Ramsey was welcomed back to Cardiff and introduced to the crowd at half time.
A good day to be a Cardiff City fan.


Tactical report by Thore Haugstad


Cardiff City survived a spirited Watford fight-back in a six-goal thriller at Cardiff City Stadium.
As expected, the Bluebirds fielded a completely different team to that against Stoke on Tuesday, but only two changes were made to the regular side that faced Norwich one week ago.
Organised in their preferred 4-4-2 formation, the in-demand Jay Bothroyd replaced Jon Parkin after recovering from an injury while new loan signing Jay Emmanel-Thomas replaced Stephen McPhail to start on the right wing.
Watford went out in a fairly straight-forward 4-2-3-1 formation; a system similar to the one Rafael Benitez played at Liverpool. Only one change was made from their win against Derby as on-loan Spurs youngster Andros Townsend replaced the injured Don Cowie at left wing.
Lethal Cardiff
The game started as most Championship games do; direct football and intense pressing. Cardiff's wingers were instructed to take the full backs on at every opportunity, with Emmanuel-Thomas coming deep to start counter attacks whenever Tom Heaton collected the ball. The Arsenal starlet did leap past Doyley a few times but was always forced to cut in on his left foot which tended to cripple his final pass.
Centrally, Olofinjana and Whittingham took turns to go forward, but in possession their distribution was different - the former keeping it simple (and justifiably so) while the latter was looking for long balls to the wingers in advanced positions or to play it into the strikers' feet. And it was a direct ball out wide that lead to the opener as Whittingham's delightful pass behind Mariappa found Bellamy who finished on his second attempt.
An effect of Whittingham's direct distribution was that neither of the full-backs had time to come forward. Whereas this was a frequent move against stoke, it happened just once in the first 30 minutes here. However, it meant the wingers stayed wide and stretched the play - leading to both strikers enjoying more space behind the midfield. Especially Bothroyd received the ball into feet often, and this led to the two next goals - the striker feeding Chopra for the game's second while finishing off the third himself.
Watford's right side
Watford, meanwhile, had two holding midfielders scrapping for the ball and marking zonally. Down the left side, the visitors were fairly quiet with Townsend cutting inside despite being left footed. Down the right side, however, Will Buckley was tormenting Lee Naylor with his sheer pace and forced three free-kicks in quick succession - before scoring a goal himself after a long throw from the right.
Apart from a couple of shaky back passes to Heaton and a dreadful Danny Graham miss, Buckley remained the only outlet for the Hornets. Additionally, Adrian Mariappa was pushed up the right flank, leading to Buckley drifting inside on occasions. In which was a clever system by Mackay, Ross Jenkins - who always stayed back while McGinn supported the attack in possession - tended to stick to the right side in case Mariappa was caught out of position; a strategy similar to what Jose Mourinho did at Inter last year where Javier Zanetti covered the space for Maicon. In this way, Watford always stayed in balance, and Bellamy had very little space to work in.
Cardiff only managed to stop Buckley when, incidentally, Lee Naylor had to come off with an injury. This was a blessing in disguise for Dave Jones, who shuffled the rapid Kevin McNaughton out to the left while Gabor Gyepes came in at centre back. There was never going to be a better player than McNaughton to stop Buckley, and Cardiff managed to block him off and steady the ship until half time.
McNaughton vs. Buckley
Jones had barely sat down on the bench before Watford clawed another goal back from Marvin Sordell's somewhat fluky cross - and the away fans were eyeing an extraordinary comeback. Down the left though, McNaughton still had the better of Buckley and even started to break forward, creating danger with his quick feet and direct running. However, it backfired minutes later when McNaughton intercepted a ball from Buckley before losing possession high up the field. Buckley, who hadn't had time to recover, was played into the empty space left by the gray-haired full back but struck the post from a tight angle.
After 55 minutes, Cardiff were helped by Mackay taking off centre half Dale Bennett for Lee Hodson - who went out to right back while Mariappa came into the middle. Hodson pretty much 'stood' full back and created few overlaps, meaning that McNaughton was more comfortable dealing with Buckley. Meanwhile, Dave Jones took of Bothroyd after what appeared like an injury, introducing Chris Burke on the right and pushing Emmanuel-Thomas up front with Chopra.
Gyepes wraps up the points
Despite a fairly high tempo, neither side created many more chances. Watford were unable to find attacking options while Cardiff were reluctant to push too many players forward. Later on however, as the Hornets pressed for an equaliser, Cardiff found more room on the counter and particularly Bellamy got many one-on-ones with Hodson. This was also explained by Buckley staying high up the pitch, leaving room for the Welshman to come deep and collect the ball from wide positions.
With Emmanuel Thomas also drifting towards Bellamy, Cardiff enjoyed some good possession along the left side. The loanee is a beast of a player and held off the Watford defenders like little kids as he wasted time down the line. Cardiff eventually won a corner off this which Gyepes scrambled in to kill off the game. The visitors had little to respond with after that and Jones wrapped up the win by playing three holding players in the final minutes.
The Bluebirds boss will be pleased with the win, although Cardiff struggled to control the game and won it - in fairness - through incredible effectivity up front. The home side should be worried by their full-back options, and they were lucky that Paul Quinn faced an ineffective winger in Andros Townsend. Malky Mackay will be disappointed but encouraged by what was a spirited fightback from the Hornets, who have now learnt their lesson: If you have a quick winger, make sure Lee Naylor stays on the pitch.

http://cardiffbluebird.wordpress.com