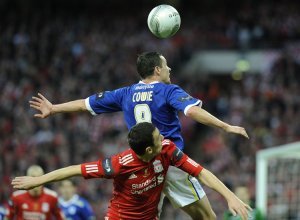 My first trip away to watch Cardiff City was a 2 – 2 draw with Crewe Alexandra in a season we finished 16th, four points away from relegation. On Sunday 26th February I saw my team play at Wembley for the fourth time, falling two penalty kicks short of winning a trophy and qualifying for Europe. Unlike previous visits, the tears that fell at full time were of pride. The £135,000,000 Liverpool team were battled to the very end by the £4,000,000 Cardiff City one and it will be a day remembered as one of the most positive in Cardiff City history. While we did not manage to bring home the cup, we brought home the hearts of the football nation instead.
If any proof were needed about the impact on the world of football we made yesterday, look at this selection of social media reaction.
Compare this to the usual reaction to a Cardiff defeat from around the internet, which usually involves at least one reference to sheep, hooliganism, bottlers, scum or all of the above. Vincent Kompany (in my opinion the best defender in the Premiership) heaping praise on to our side along with football great Patrick Vieira, who probably didn't know Cardiff City even existed six years ago. We have come a very long way in the last few years, and the journey isn't over yet.
The day of the game was everything a cup final should be, with the sun streaming down on London and fans mixing freely and good naturedly before the match. Pre-match banter at The Globe went in favour of Cardiff City as Liverpool chanted "In Istanbul, we won it five times", swiftly countered with "Do you need directions, we've been here four times" and "We're Cardiff City, we'll be your tour guides". There was also joint singing of "Justice for the 96″ with a number of Cardiff fans displaying Don't Buy The Sun stickers and banners given to them by Liverpool supporters.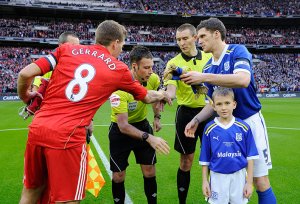 Cardiff City
Heaton
McNaughton
Taylor
Hudson
Turner
Whittingham
Cowie
Gunnarsson
Miller
Gestede
Mason
Liverpool
Reina
Johnson
Jose Enrique
Agger
Skrtel
Gerrard
Henderson
Downing
Adam
Suarez
Carroll
Liverpool may not be contenders in the Premier League this season, but that is a formidable lineup for any team to face, never mind a Championship side mostly put together of free transfers. If any further reminder was needed of what we were up against, Liverpool struck the post with their very first attack of the game. Glen Johnson producing a fine effort from the edge of the area that struck the woodwork, and Gerrard unable to get the ball anywhere near the target from the resulting scramble. Liverpool continued to produce pressure as they won the first of countless corners throughout the game, but the Cardiff City defence was flawless. Ben Turner (The Turnernator) has been sensational since joining from Coventry this season, and alongside the returning Mark Hudson they both produced heroic displays. Andy Carroll was really struggling to deal with Ben Turner, if you had told an outsider that one of them was the most expensive British player in history they would certainly not have picked Carroll. Liverpool failed to make this early pressure count, as Cardiff got more and more into the game with each passing minute.
Charlie Adam freekicks at Wembley are not something Cardiff fans remember fondly, so it was with great relief when he was unable to repeat his success of the 2010 playoff final on 9 minutes. Moments later Cardiff created their first real chance, the ball falling to Kenny Miller inside the Liverpool area. His shot went over the bar, but it was a warning sign to Liverpool that we were not just here to make up the numbers. Liverpool responded with another corner and another wasted effort from Carroll, while Suarez had an effort blocked by Mark Hudson. The defensive efforts were fantastic in these early stages, however nothing could have prepared the 31,000 Bluebirds for the moment they were about to experience. I felt Martin Skrtel was man of the match for Liverpool, however it was his error that presented Kevin McNaughton with the ball in the 18th minute. McNaughton's distribution is a major issue most of the time, but not this time, not on this day. He found Kenny Miller, who played a wonderful ball through to Joe Mason in the Liverpool area. Mason was playing for Plymouth Argyle last season and yet here he was, one on one with World Cup winner Pepe Reina. Time seemed to stand still as Mason took his shot, before an eruption of joy as it beat the Liverpool keeper and nestled in the back of the net.
Unimaginable joy. The noise and the celebrations instantly topped any other moment I have had supporting Cardiff City. The team I love so much, the team I have followed to Crewe, Gillingham, Rotherham, Scunthorpe and many other equally unglamorous locations were leading Liverpool in a cup final at Wembley. Strangers embraced, people fell over, tops were whirled in the air and I am fairly confident I was not the only person to have a tear of joy. A particularly poignant scene unfolded in the row before mine, a dad hugging his two sons and saying "Remember this moment boys. This is why you are Bluebirds". All the moment needed was a dramatic Celine Dion backing track and it was as emotional as any Hollywood film. I had never even dared to dream about winning the cup before the game started, and this goal did not change my opinion, but that is besides the point. Cardiff City, written off as no hopers at the start of the season and ignored by much of the media in the build up to the game, had taken the lead against Liverpool. It was our act of defiance to those who said we might as well not bother turning up. We were Cardiff City, we were here, and we mattered.
I could quite happily have lived in that moment forever, but unfortunately football matches do not last 18 minutes. On we went, and full credit to Liverpool for the way they reacted to the goal. Rather than fall to pieces at going behind to the underdogs, they continued to create pressure as they searched for an equaliser. Daniel Agger had a chance just a few minutes after the goal which was again denied by Hudson, while Don Cowie was his usual majestic self in denying Stuart Downing. Despite the chances, half time was getting closer and still the Bluebirds held the lead. The pressing from our defence meant that Liverpool were forced into shooting from long range with only a handful of real chances to talk about from the Premiership side. A cross from Gerrard found Agger who forced a good stop from Heaton, while Gerrard himself first had a shot blocked before putting another effort over the bar.
Half time arrived, and Cardiff City were still in the lead in the cup final. With the game paused the reality of what we were witnessing really sunk in. I have suffered plenty of heartbreak in my decade following Cardiff City, but this is nothing compared to what many of our supporters who were at the game had experienced over the years. Fans who have seen us lose 5 – 0 at home to Maidstone, come within a few places of relegation from the football league and a whole array of tragedies that would keep any therapist in work for many months. The accomplishments of Cardiff City in recent years are very special indeed. The only sides to have played in both domestic cup finals at the new Wembley are Chelsea, Manchester United and Cardiff City Football Club. Somewhere deep down I knew Liverpool would score at least once, and just enjoyed a stress free 15 minutes relishing the scoreline and our accomplishments.
Malky had won the tactical battle so far, and Dalglish surprised me by leaving Jordan Henderson on the pitch for the start of the second half. When you consider Henderson cost more than our entire squad with enough left over to buy every Cardiff City fan at Wembley a season ticket and a pie, he was totally anonymous. Whenever I have seen Liverpool play this season, Bellamy has been their best player and you have to question if Dalglish was worried about Bellamy playing against his hometown team. Despite not making the change most people in the stadium expected, Suarez had a decent chance and our very own Braveheart Don Cowie cleared from Charlie Adam.
The final straw for Henderson came after he was the first player into the book for an extremely poor challenge on Joe Mason. A few moments later he was finally withdrawn for Bellamy after 58 minutes of the game. This was around 57 minutes and 55 seconds later than Henderson should have been taken off, but half an hour of Craig Bellamy is more lethal than 90 minutes of most players. Craig Bellamy may not play for Cardiff City anymore, but he has not been forgotten. His name was clapped by both sides of Wembley as he came on, a Welshman being applauded by 90,000 at the home of English football must be a special feeling and one that should fill Bellamy with pride at the way he conducts himself as a professional.
Just two minutes later, Liverpool were level. Thankfully for my mental state Bellamy was not involved, instead it was Luis Suarez who headed against the post before Martin Skrtel was on hand to smash home the rebound. Liverpool had created enough chances for an equaliser to be deserved and it did nothing to dampen the spirits of the Cardiff City support. Three Little Birds has become a real anthem for the cup run this season and it was belted out for much of the game by the majority of our support. Liverpool were loud when they sung Fields of Anfield Road, but our support was phenomenal throughout the game and we can be just as proud of the players for the way we behaved and got behind our team. Cardiff City fans do not have much good said about them, but we showed the nation that we are passionate instead of violent. It was by far the best atmosphere we have created at Wembley so far, the feeling of togetherness goes beyond the players this season, it has encompassed the supporters too.
Having been drawn level I did worry that Liverpool may finally show the gap in class that should have been evident and go on to win it fairly comfortably. I need not have worried about this side giving in, it's not in their nature. The rest of the 90 minutes were played out at the same frantic pace as the rest of the game had been. Some cup finals can be dull with teams too scared to create and play their proper football, and the 2008 cup final was a poor game, but this was by no means the case here. Liverpool had chances and continued to get corners, but Cardiff did not let conceding get to them. Peter Whittingham had a free kick in a dangerous area that had potential to create a chance, while our midfield worked themselves into the ground to try and create a winner. Aron Gunnarsson has been one of our best signings this season, and he gave everything he had all afternoon, barely able to stand by the end due to the cramps in his legs from such commitment.
The clock reached 85 minutes, and the game was in next goal wins mode. It looked as if Charlie Adam would break Cardiff hearts at Wembley once more, but Heaton denied him superbly with five minutes to go. Daniel Agger was replaced by Jamie Carragher for Liverpool, testament to the hard work done by Rudy, Mason and Miller that it would be Liverpool who needed to make the first defensive substitution. One more chance would fall to Kenny Miller in normal time, and it looked as if he would surely win us the final with two minutes to play. The ball fell to him in the penalty area not far from the goal, but his shot was poor and not even on target. All around me people thought but didn't dare to say that our best chance to win the game had just vanished over the bar with Millers shot.
Four minutes added time were announced and while I was proud of our performance, a goal here would have been utterly devastating. Luis Suarez had the chance to win it in the 92nd minute but put his chance wide, before Gerrard shot over with the last kick of the game. Our cup run had gone to extra time so many times that it was perhaps destiny for the same to happen at Wembley.
There were many tired bodies out on the pitch by this stage, and Joe Mason was taken off for the Slovakian hitman Filip Kiss. Mason looks a real talent at this early stage in his development, you feel this will not be the only time in his career he scores against a team like Liverpool in a huge match. Filip Kiss is a real favourite of mine as regular readers will know, he goes into every tackle as if he were battling at the gates of Hell, and anyone who just read BBC match reports for their Cardiff City knowledge this season would probably think his full name was Filip Kiss Booked.
In many cases extra time is an utterly pointless affair, teams too tired and cautious to attack just wait for the penalty shoot out. This was certainly not the case here, as Suarez forced Heaton into a save in the first seconds of extra time, before a clearance off the line by Andrew Taylor, another of our defenders who was warrior-like throughout. You could tell that Mark Hudson's efforts had come at a cost so soon after his injury, and he finally had to give way on 98 minutes to Anthony Gerrard (welcomed to the pitch by chants of "There's Only One Gerrard" from the Cardiff fans). This coincided with Filip Kiss getting his traditional yellow card for a tackle on Craig Bellamy that probably should not have been shown on tv before the watershed. The changes were coming thick and fast now as both sides struggled to stay fresh, Dirk Kuyt coming on for Andy Carroll and Kevin McNaughton for Darcy Blake. It was become popular to poke fun at Andy Carroll and without wanting to fall into this trip, it is fairly mystifying how anyone valued him at £35,000,000. To put this into perspective, he cost the same amount as Sergio Aguero and less than such superstars as Wayne Rooney, David Villa, Cesc Fabregas, Didier Drogba, David Silva, Gareth Bale and Aron Gunnarsson. Dirk Kuyt was far more dangerous in his short time on the pitch, as he showed to great effect on 107 minutes as Liverpool took the lead for the first time.
Gerrard was involved in the goal, his poor clearance from Kuyt's initial attempt leading to the Dutchman being able to drive a fine shot past Tom Heaton, who could have done nothing more in his efforts throughout the game, beaten by two strikes he could not possibly have saved. It looked as if that would be that, a glorious journey from Oxford United to Wembley Stadium that would fall just short in injury time. Liverpool are the masters of cup finals, and they surely would not let this lead slip away from them.
The noise inside the stadium was magnificent, surely one of the loudest Wembley has any seen. Liverpool fans saluted what looked to be their first cup win since 2006, while Three Little Birds was repeatedly sung by the Cardiff fans who were swelled with pride. Pride and beer admittedly, but mostly pride. Despite surviving more blows than would be plausible even in a Rocky Balboa film, Cardiff kept coming and coming as they searched for a goal to level the game. Cowie and Whittingham both had crosses cleared away, with Skrtel once again denying Cardiff of their shot at greatness. The clock continued to countdown as time began to run out on Cardiff City. Pepe Reina is a truly excellent goalkeeper, and I must praise his distribution of the ball, he was often able to get the ball to Liverpool players it seemed impossible for him to reach to run down those closing minutes of the game. This alone was hugely pleasing to see, a team of the magnitude of Liverpool forced to run down the clock against Cardiff City.
Ben Turner was playing as a striker by this stage, and he won a corner after beating Glen Johnson comprehensibly in the penalty area. Reina cleared the ball away, before a moment that summed up everything that is right about Cardiff City this season. Aron Gunnarsson had been hobbling around the pitch, clearly in a great deal of pain but with no subs remaining, he refused to give in and go off. He went to take one of his now trademark long throws, however he was suffering so greatly he could not even walk over to pick up the ball. Malky Mackay came out of his technical area and delivered the ball to Gunnarsson by hand. With what was surely his last ounce of strength Gunnarsson hurled the ball into the box and Skrtel was forced to put the ball out for a corner after hard work from Gestede. Whittingham delivered a ball of the sublime quality we have come to expect, and Filip Kiss looked to have leveled the game as he steered an effort on goal that beat Reina who had come out of his goal for the ball, only for Dirk Kuyt to head the ball off the line and away for another corner.
Then, it happened.
Whittingham delivered another corner, Aron Gunnarsson headed it goalwards, it found Ben Turner just a yard out, who rolled the ball underneath Reina and into the net. The ball had barely crossed the line before I was buried underneath a sea of writhing blue shirted bodies. I did not know any of the people around me, but for this day they were all my brothers. I jumped on the man to my left at the exact second he tried to jump on me, both of us falling to the ground. The man to my right jumped on both of us, and 4 or 5 people from all around either by choice or by the momentum of the most incredible goal celebration of all time joined the massive pile of joy located in Row 13 of Block 541 of Wembley Stadium. Every wasted trip to see Cardiff City lose in a small northern town, all the hundreds and hundreds of miles traveled and the thousands of pounds spent, each and every one of them was worth it for this moment. It did not matter who went home with the cup now, Cardiff City had already won.
Having been singing since 11am in the morning, I had no voice with which to salute this goal, instead screaming with joy at the bottom of a South Wales moshpit of pure happiness. All around the stadium were similar scenes, each and every Bluebird who was there will have a story to tell about that goal for as long as they live. The 11 men on the pitch had gone beyond footballers during this final, they were warriors now and no mistake. Ben Turner and Anthony Gerrard both ripped off their shirts to celebrate, Filip Kiss running after the goalscorer with a roar that would have struck fear into the heart of the greatest Spartan soldier. The team exploding with joy as they leapt into the air as one, even Mr Cool himself Peter Whittingham getting caught up in the moment. Joe Mason scoring the opener had lasted as my favourite ever footballing moment for less than two hours.
The noise and the feeling that followed that goal and the minutes after is something that no drug and no amount of money could possibly recreate. I don't know what the future holds for Cardiff City, but it matters not – it gave us this moment. What little remained of the extra time period passed by in a blur, the Queen could have streaked across the pitch with the Carling Cup on her head and I probably wouldn't have noticed (I checked with the BBC coverage, that didn't happen). The final whistle came and on to penalties we went.
For some reason I was far more calm before this shootout than the one in the Semi-Final against Palace. Of course I wanted us to win and to bring home the trophy, but we had already done so well and fought so hard that the result was not the most important part of the day. Cardiff City showed the world what they are capable of, this is a team that can go far.
Gerrard had his penalty saved by Heaton, our cup hero to the end. Kenny Miller was a brave man to step up after his miss in the semi-final, but his penalty was equally as poor as that effort. Charlie Adam was next up, and his penalty was the worst yet of three very poor efforts. I saw an 'Indonesian Reds' banner before the game, the ball from Adam's penalty may well be waiting for them in their garden when they get home. Don Cowie finally got the scoring underway, putting us 1 – 0 up with the fourth penalty of the game. At this stage we were just three penalties away from glory.
It was not to be. Kuyt, Downing and Johnson scored while Gerrard and Gestede missed, only Whittingham able to convert his kick. Liverpool celebrated with the trophy and an important victory for them, while we saluted our team of heroes for their efforts. It is telling that as Liverpool waited to get their medals, the cry of BLUEBIRDS was the only one that could be heard around the stadium. Take nothing away from Liverpool, they have played well throughout their cup run and deserve the trophy, but they will always remember the day they played Cardiff City.
A final word must go to Craig Bellamy, a true Bluebird despite playing in the wrong colour shirt. He did not take a penalty or get involved with the goal celebration from Kuyt, and when the miss from Anthony Gerrard confirmed the result he went to console the Cardiff players instead of joining in with his own teams celebrations. He saluted the Cardiff fans after the game, a display of real class from a man I respect deeply and would love to see back in a Cardiff shirt one day.
Our cup dreams are over, but we are still in the playoff places in the Championship, and this day of pride and commitment for every Bluebird on and off the pitch must act as the catalyst to go on and win promotion. We have waited a very long time for it to be Cardiff City's day, but that day is getting closer. To borrow the song that echoed around Wembley so many times, don't worry, about a thing, coz every little thing really is gonna be alright. We have 14 league games remaining in which to experience that feeling when Ben Turner scored in the 119th minute. I for one believe that Malky and his band of Bluebird brothers can take us back to the promised land.