Plenty of photos can also be found here
http://nigelblues.blogspot.com/2008/01/fa-cup-round-three-ch asetown-1-cardiff.html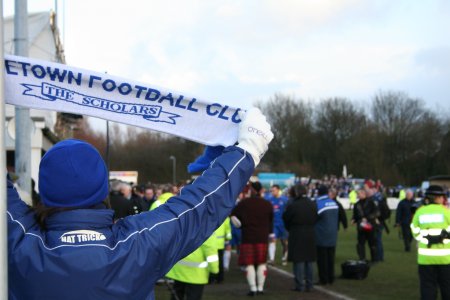 Match of the Day decided to only show 2 minutes of Chasetown vs Cardiff City action when it was chosen as one of their key games, thankfully that meant there was no shock, but a scare, as The Mighty Mighty Bluebirds progressed to the F.A. Cup 4th Round for the first time since that famous 2002 slaying of Leeds United.
The biggest occasion in Chasetown's history had fitting reward for their monumental efforts to get this far and play the game on their tiny Scholars Road ground as they amazingly grabbed 17th minute lead thanks to a Kevin McNaughton own goal. They hung on until first half injury time as Peter Whittingham levelled before Cardiff's superior fitness, strength produced a 3-1 win with the mercurial 17 yr old Aaron Ramsey scoring on his full debut and clearly man of the match too whilst Paul Parry's driller killed it off. It was a fun day that embodied everything good about the F.A. Cup and a rarity as everyone went home happy.
This time last year, tv and radio hoped we could knock out Spurs as Cardiff earned nationwide exposure and was Sky's main game of the round. Now, we weren't liked - just like the old days! - and everyone wanted us knocked out for what would have been be, even for a club in our position, one of the major shocks in FA Cup history and modern times. The build up was completely about Chasetown and I'm sure they loved their moment of national spotlight.
Described as the lowest ranked team to ever reach Round Three of the F.A. Cup although the various restructures of football over the years don't make that definite, Chasetown were 6 divisions below City and either 135 places lower. Their F.A. Cup journey started over 4 months ago and they'd already played 9 games overcoming Oadby, Rocester, Rainworth Miners Welfare and Nuneaton Borough to get through the qualifying rounds then Nuneaton Borough in Round One and their bigger upset to overcome bottom of League One Port Vale after a home replay in the last minute of added time after the visitors had missed two penalties to get us.
They previous best was Round One in 2005, losing after a tv live replay but doing enough to attract Virgin as their sponsors. This tie saw the Sun newspaper logo added to their shorts and promised Chasetown's man a flight anywhere in the world if they beat us. In the BGB Midland Division, Chasetown stand 6th, 8 points off leaders Stourbridge, but they've only played 16 fixtures and have 5 games in hand due to this cup run.
The game rightly went ahead at their Scholars ground, albeit with temporary stands and tents, and with huge assistance from City who printed the tickets, provided stewarding, helped with health and safety matters and more. Many teams may have taken advantage, well done to Cardiff for going to these lengths when they didn't have to showing the right spirit for the F.A. Cup.
With a 1pm kick-off, we were off at 9 from Barry (thanks Dave for being my chauffeur!) and on a sunny day, roads were quiet not too long after 11. A designated away point had been set up at Burntwood Rugby Club, less than 5 minutes from the ground and we weren't charged for parking either. Inside, the well appointed club with a couple of bars was packed with Cardiff fans and grateful rugby club committee men and bar staff. It was a shame to leave it to go the game, a bigger shame it wasn't open when we got back afterwards.
The first thoughts of Chasetown's motley crew including the regular FA Cup non-league occupations of car mechanic, tiler, school sports coaches, teacher, taxman, accountant, BT engineer, customs officer, kitchen fitter and fork lift driver (but no postman! time have changed) all had first thoughts of facing Robbie Fowler and Jimmy Floyd Hasslebaink - fortunately for us, Fowler remains nowhere to be seen and Jimmy sat all 90 minutes on the subs bench. City had two enforced changes with Kasper Schmeicel sadly ending his loan spell and Steve McPhail suspended for one game as was Dave Jones who served the final match of his 2 game ban from the dugout - he probably was grateful given facilities there.
City started with Oakes, McNaughton-Johnson-Loovens-Capaldi, Whittingham-Ramsey-Rae-Ledley, MacLean-Parry. Subs were Forde-Blake-Hasselbaink-Purse-Thompson. And what a sight greeted them, and us, at the ground.
Down a country lane and just behind a new by-pass, surrounded by trees, there was Scholars Ground. A bike shed stand, the City end an open gate entrance to get to our Village Fete temporary stand across a metal walkway to avoid Glastonbury-style mud, away end security was a garden shed on top of a scaffolding construction, hospitality was a marquee, the ground was littered by men and kids in trees looking in, the pre-game antics included 81 yr old comedian (and ex-Newport director) telling the same jokes he's told for 60 yrs (but it's the way he tells'em!) and "They Think It's All Over" Nick Hancock - I thought he was dead too!
We were welcomed to "the coldest ground in the country but with the warmest fans". The latter bit was fair enough, they were almost too nice but dare I suggest they've near been to Oldham, Rochdale or Bury if they think their place is cold. Of course, as Cardiff were in town there were a ridiculously high and inappropriate number of police around - very friendly but a complete contradiction with the atmosphere and everything else taking place.
Both teams were led out by a bagpiper in full Scottish regalia(!!) and Cardiff knew it wouldn't be easy as the played towards us but into a stiff wind, low sun and what was a parks style pitch with a crowd on top of you. Playing in a very open ground, any noise from songs went straight out so the atmosphere was gentle to the point that it didn't feel like a football match at times.
Chasetown were invigorated by the occasion while City came to terms with the occasions and surroundings, they were set up 5-4-1 but came out of the blocks fast, won a couple of corners and give Michael Oakes a dig. Back came Cardiff to win a couple of corners of their own but, just like the hosts, nothing came of them.
Then, with Cardiff started slowly and a little lethargic, the tremor struck. Ben Steane tore down the right onto a through ball, his low cross to the far post had Mc NAUGHTON in front of a forward but, as if that grey-haired Mohican was affecting his balance, he stumbled reaching for the ball and only succeeded tucking it perfectly into the corner of his net for an own goal. Chasetown went ballistic and I'm sure the commentators and newspaper men too. Sky probably made it Breaking News!
Chasetown's celebration was 90 yards away from us but they didn't stop their every player, goalkeeper included, being there for it. What a moment for them, they made the most of it but there was 600 City fans all looking at each other either in some disbelief or nervously laughing about it all.
Apart from a couple of other brief flirtations, that was about it from Chasetown as an attacking entity, McNaughton had to head away later in the half and there was a brief scramble second half but although Cardiff had all the ball and living in Chasetown's half, there was no end product and no chances and Chasetown's defensive teachers, one-handed taxman, account, paving man and BT engineer were probably working twice as hard as they do in their day jobs.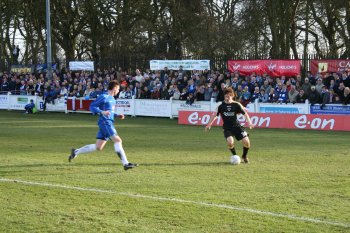 Click image for larger picture
Peter Whittingham was seeing most of the ball but little was coming off for him but while Cardiff were working it out, already one man stood out head and shoulders above it all, step forward Aaron Ramsey. As full debuts go, forget the opposition, it was stunning. His movement, vision and passing was brilliant, I can honestly only say I only saw one pass of his intercepted and he was at the heart of everything. No Cardiff move started or progressed with Rambo being at the core of it. What a prospect.
Corner after corner arrived, it must have been double figures by half-time but Chasetown's men threw their bodies in the way of it all as though their lives depended on it and, with half-time approaching, those nervous laughs were slowly turning to anxious worries that we could be witnessing something historic for all the wrong reasons.
That's the point my brother and myself decided to visit away end catering to beat the half-time rush - a burger van - and as my onions were loaded on, "yayyyyyessssss!", City had finally equalised with what was the first effort on goal we'd got past a defender's leg, head or girth. Aaron Ramsey had started it - who else? - fed Steve MacLean deep in the box, he held the ball up then laid it back where PETER WHITTINGHAM placed it home with a strong curling shot that left Chasetown's keeper helpless. The Chasetown keeper was named Lee Evans and he wasn't laughing now but sweating just as much! For Whitts, it was his 5th of the season but third in 8 games as he gets a regular run in the side.
Half-time and cue the bagpiper: Chasetown 1 Cardiff City 1
City came out 2nd half with Michael Oakes defending the goal in front of us and he caused us a worry if anyone think he can adequately replace Schmeicel. How can such an experienced man produced such an appalling display of kicking? Near the end, he went walkabout and decided to take the ball around a Chasetown striker in very unconvincing stumbling style, luck more than judgement saw him get away with it. Another who didn't really impress given the chance was Steve MacLean. Cardiff City, to me, undoubtedly look a better side with Thommo offering all he does and I don't understand why he's on the bench watching on, this was a game that was perfect for his more abrasive style too.
Cardiff were now enjoying complete domination, playing ok but not the best, but chances remained at a premium although Whittingham flashed one effort narrowly wide. On the hour, Chasetown introduced their talisman - Danny Smith the schools coach - who came off the bench to net Round 2's winner vs Port Vale but that was the only time I saw him apart from when he briefly appeared near City's goal and had a few verbal volleys of "hey midget", "the plane, the plane" and "shouldn't you be at the circus?".
Straight after his introduction however, City made it 2-1 and you felt there was no way back for hosts. That goal came after a prolonged spell of head tennis and pressure around the Chasetown box, the ball ran to Tony Capaldi who scooped it to the far post, Parry nodded across goal and AARON RAMSEY was alert and intelligent enough to run in and nod home for 4 yards for a perfect debut.
The came on the hour and after 73 minutes, none of the people were on the pitch but they knew it was all over, as Joe Ledley - who was strangely quiet and anonymous all afternoon - latched onto a loose ball in midfield, brought it forward, played it diagonally into the box where PAUL PARRY cut away from markers to shoot on the turn with the ball running away from him, his low effort skittling through Evans' legs. Goodnight, god bless and thank you very much.
Game over, it very much went through the motions in the closing stages. City brought on Darcy Blake for the last couple of minutes but I'm sure that was just to give Aaron Ramsey his personal standing ovation (it had to be standing, there was nowhere to sit!) for what was an inspirational debut. The other stand-out moment was Chasetown's tannoy man inviting us all back next week to see their promotion challenge against someone or other, kick-off 3pm. I'm sure he just wanted to hear on own voice on 5 Live who were broadcasting the game to the nation but it was that sort of day, Chasetown's day and not Cardiff's! City did what they had to and, after that opening blip, were fairly measured and professional about it.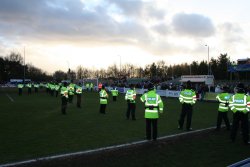 Click image for larger picture
Final whistle produced applause all around the ground, Chasetown's players celebrating with each other on the pitch but then the Keystone Cops charge across the pitch from both sides to form a human chain facing us. How ridiculous and inappropriate! I guess they needed something to do and justify their operation, numbers and an apparent £37,000 bill for the game. One City fan who arrived at the ground at 10:30am saw them practise that manoeuvre, truncheons drawn.
However it couldn't spoil anyone's day, Cardiff fans laughed at them and the police themselves looked embarrassed about it. Then Chasetown went on a lap of honour, coming to us first having to get through that line to do it, a really nice touch to round off what had been a fun day.
Report from FootyMad
Chasetown eventually crashed to a 3-1 defeat against Cardiff City in the third round of the FA Cup but only after taking a shock lead against their Championship opponents.
The Scholars, sixth in the Southern League Division One Midlands, and the lowest-ranked team to ever reach this stage of the competition, started the game very brightly, winning two early corners.
From the second, Bluebirds keeper Michael Oakes required treatment after receiving a cut to his head.
Oakes then saved Kyle Perry's header from John Branch's free-kick before Chasetown took the lead in the 17th minute.
The minnows took advantage of a Cardiff offside trap that failed to work as Ben Steane knocked in a dangerous cross that Kevin McNaughton turned into his own net.
The illustrious visitors tried to respond on a sticky pitch where Chasetown had beaten Port Vale in the second round.
Peter Whittingham and Paul Parry went close to an equaliser, but it looked as though Chasetown would hold on to their lead until the interval.
However just before the break, Aaron Ramsey and Steve MacLean combined to set up Whittingham, who curled his left-foot shot home.
In the second half it was one-way traffic as Dave Jones' side took control.
Tony Capaldi was booked for diving when he appeared to have been tripped inside the penalty area, but the Northern Ireland international then crossed for Parry to nod the ball into the path of Ramsey, who headed home from close range.
Chasetown were a spent force and Cardiff added a deserved third goal with 17 minutes left when Joe Ledley set up Parry to slot the ball past Lee Evans and seal the Bluebirds' place in the fourth round.
External Reports
The Observer

The Independent On Sunday
The Sunday Telegraph
The Sunday Times

Wales On Sunday
Western Mail