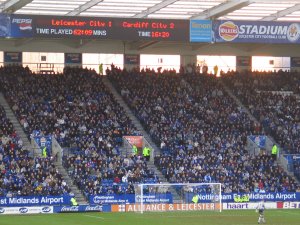 Leicester, Leicester what's the score?
For only the second time this season, Cardiff City put together back-to-back Championship victories with a hard-earned but, with greater quality and purposeful goal attempts, a certainly deserved superb 2-1 victory at Leicester City's Walker's Stadium. It sent the Bluebirds flying nearer a play-off berth and The Foxes into a right hole. Despite the hunting ban, they're firmly looking at a relegation dogfight.
Cardiff scored superb goals early in each half, Cameron Jerome's towering header rounding off a fantastic move whilst Jason Koumas mastery of the dead ball rarely better than his whipped winner in the second half, a piece of skill that the very best free-kick specialists would have been proud to claim.
Matty Fryatt, on his home debut, equalised in the first half as Leicester recovered from the early setback and applied immense pressure. Going behing again at the same stage of the second half, they huffed, puffed and tried again, ending the match with five forwards but City were resolute this time and close to recording a more resounding victory as the very best chances came our way. This was one to be proud about.
For the first time this season, I turned a City away fixture into a weekender. Friday day and night was spent in Birmingham, a city that's changed so much. Great in the daytime for the shoppers these days and excellent by night too, thoroughly enjoyed. Some excellent bars/clubs and if a Wetherspoon's near you in selling Whisky Ale this coming week, enjoy some but drink it at your peril. That was a demon brew. It all meant whilst other fans were making the 150 mile two to three hour trip, I had a leisurely 45 minute outing up the M6/M69 only.
The first inkling the policing was going to be larger and heavier than normal was arriving in the centre and seeing 5 police vans, 4 hired mini buses, 2 van loads of police horses and the full range of police uniform, clothing and riot gear - there must have been a January Sale at Top Cop. One pub with a dozen City fans only had 40 coppers outside, another street with a few bars with full or fluorescent jackets and mounted horses seemed to be going up and down every city centre street. The only question is why? They weren't unfriendly but it was intimidating. Maybe they feared problems, maybe it's the reputation thing but, even by usual Cardiff City awayday standards, this looked ridiculous.
Not particularly wanting to be part of that show, we found an excellent O'Neill's (excellent that is until they decided to show rugby instead of the early Everton v Arsenal game, I thought this only happened back home) and then a superb real ale bar, The Globe. The beers were wonderful, the locals were weird but what the hell!
Walker's Stadium is far a distance form the centre as Ninian Park in Cardiff. Situated not far from the National Space Centre (Naive 1 - I never knew we had one) and the city jail which looked as grand as a castle (Naive 2 - was it ever one?), the stadium although not the highest is iundoubtedly mpressive as you approach it.
It is a one-tier bowl-shaped fully enclosed stadium holding about 40,000 and, to me, it is deceiving. It was only half full but it didn't look like a 20,000 crowd inside, perhaps the deception as much to do with the quietness and lack of atmosphere from the home support. For City, not only did we have to contend with an unhealthy number of police and stewards but a clampdown on membership card checks. Nobody could get in without a pass, those who didn't have them (like myself) had to go to a hut to be verified and get a sticker put on our tickets and those who weren't strictly members seemed to manage to blag their way in somehow. Again, why so much security?
Inside, it's a great away section with good catering (but no bar!), a bookie with many winning their "Jerome 1st goalscorer" bet at 5/1 and a good view. We were housed in one of the corners with netting separating us from home fans on both sides. The sun was blinding us (the LCFC programmes became sun visors to most City fans) for a good hour as it fell behind the stand directly opposite us and then it went cold. In with the City fans today was '80's Bluebird hero Dave Bennett who lives locally and seemed to have been a guest of a City fan (how did he get in with no membership card then?). Good to see old players still watch us, even better when they're in with us.
City would have travelled with some confidence. With Loovens still injured and Whitley serving the final game of his latest ban and no transfer activity in the week (the club not yet ridding themselves of Phil Mulryne or Andy Campbell), City made one change from the side that burned Burnley last weekend with Willie Boland dropped to the bench and Ricardo Scimeca put in the engine room with Joe Ledley. The starting line-up was therefore Alexander, Weston-Cox-Purse-Barker, Ardley-Scimeca-Ledley-Koumas, Thompson-Jerome. Subs were Margetson-Boland-Cooper-Mulrune-Ndumbu Nsungu.
Think back to those dark days with the poor Lennie Lawrence's under-performers last season and that's Leicester City under Craig Levein this season. There's a theory that if his side hadn't recovered from a 2-0 deficit to incredibly knock Spurs out of the F.A. Cup a fortnight ago, he might not have a job now. His side are in the bottom three, they've now lost 5 Championship games in succession and collected only two of the last 27 points available. Quite appalling.
They looked short on confidence and ideas against Cardiff but they're certainly a far better outfit than the painfully limited Crewe and Brighton, the strugglers that are Plymouth, the novices of Sheffield Wednesday and the recovering but still troubled Millwall. The manager and players have to take a deep look at themselves for the mess they've somehow got themselves in.
Their sides looked strong enough on paper. The lanky ex-Scottish Celtic keeper Rab Douglas between the posts, a back line of Stearman-McCarthy-Nils Eric Johansson-Maybury, Smith-Kisnorbo-Williams-Hughes in midfield (Ryan Smith on a season's loan from Arsenal and Steven Hughes an ex-Rangers team mate and good friend of City's Steve Thompson) and Deep Freeze (Mark DeVries) and home debutant Matty Fryatt (signed last week from Walsall for £750k) up front.
With a pumping p.a. blaring out a rocked out version of the fox hunt, they were up for it and had the first chance as DeVries, a powerful forward who caused trouble all afternoon, forced himself between Pursey and Coxy but shot straight at Alexander. Then it was all City.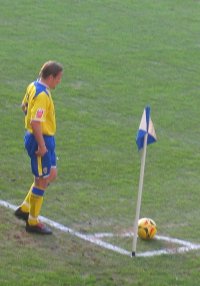 Ardley's corner just before his cross that City score from
Pressure was building as Cardiff attacked towards us. An Ardley cross was snuffed out, another put behind, the resulting corner caused trouble, Jerome was taken down and then, from a flowing move and good link play between Weston and Ardley, the former's cross was met on the full by Thompson but his good effort on the turn flew over.
The next attack, a minute later, was lethal. Leicester tried to break into City's half, Chris Barker dispossessed and instinctively switched play to the right with a superb pass that sent Neil Ardley away in acres of space, he got the ball by the touchline and sent over a most fantastic cross that CAMERON JEROME met on the full and guided an outstanding header of power, purpose and direction into Douglas' top right, the keeper had no chance. It went absolutely mental in the City end, Jerome charged over to celebrate with us, Ardley took a bow. 13 minutes, 1-0 and we looked well on the way with Jerome's 15th of the season, 4 in his last 5 and 13th in the Championship making him joint leading scorer with Dave Kitson, many of whose goals have been penalties.
The Cardiff section were in brilliant form and had already been baiting the home support. Now one ahead, it was time for the repertoire. "Easy, easy", "1-0 to the sheepshaggers", "Leicester is a library", "There's only one Jerome" and many many more. To our left, a section of 100 Leicester fans seemed to be the only ones trying to back their side but with only one chant, "Stand up and support your team" which they continued ad nauseum. Their fans didn't respond and sat, ours did and stood!
On the pitch, there was a sea change. At 1-0 ahead, we seemed to relax and take our foot off the pedal in a game in which we appeared to have total control. Leicester, meantime, were fighting and fighting hard. In no time, they appeared to have total dominance in midfield and we were penned back living on our nerves with big challenges, desperate clearances and, also, in pure comedy as Leicester's shooting was so wayward that it simply provided catching practice for their fans high up in the stand. Each one cheered loudly by us. City's only escape saw Thompson test Douglas but it was one-way traffic.
Cardiff needed half-time and sorting out. It had become a slog in which our midfield were struggling and you felt it needed the "dog" of Willie Boland as Ledley struggled, Scimeca seemed to allow the game to pass him by and Koumas cut an anonymous figure. Five minutes before the interval, disaster.
A scrappy move that characterised many of Leicester's desparate looking attacks in which City didn't help themselves with some head tennis inside their area instead of belting the ball away, Cox headed weakly, it was returned with interest from a Leicester head and Alexander let himself down with poor reactions somehow allowing MATTY FRYATT to jump over him and nod the ball goalwards, the ball being ruled over the line despite Darren Purse's acrobatic clearence. Like Jerome, it was Fryatt's 15th of the term but the other 14 for the 19 yr old came with Walsall a division lower. A minute later, Alexander made amends as Leicester cut through us but he did well to stop Fryatt's low shot. A half that had started so promising finished so worrying.
Half-time: LEICESTER 1 CITY 1
City returned to more terrific support as they came back out, the boys in full backing for the team and enjoying the occasion. However the next shout was to give our lot a wake up as Leicester got through us again, one shot was blocked, Fryatt's deflected follow up seemed destined to go top corner until Neil Alexander rescued City with a miraculous clawed one handed save at the last gasp.
This time, City responded as Ardley sent over a couple of crosses and a couple of corners whilst Jerome tried his luck from 20 yards but fired over. Twice, Jason Koumas, now showing signs of coming to life, also ran at Leicester defenders but was denied free-kicks but it was third time lucky when he was nudged aside on a 25 yard run just outside the area on the left.
A full 25 yards out at a difficult angle, probably not his best side, but what followed was majesty from King Koumas. The obvious shot was to curl around the wall for the nearest top corner but in the knowledge Douglas would almost certainly get there. Anything else from his position would have been beyond any Championship player, average or very good, but Koumas is outstanding and the best without equal. His free-kick was a screamer, over the wall, swinging across and away from Douglas, his full-length dive in utter despair as KOUMAS delivered to absolute perfection into the opposite top corner. Truly stunning, completely unstoppable, a genius at work and boy, didn't we love it. Koumas' 10th, each one exceptional.
At 2-1 ahead, City were in no mood to mess it up again. Once more, Leicester hit us with everything and came at us with force but, this time, to a man, City stood firm, blocked and defended everything and when opportunity arose, counter-attacked with menace. They always looked composed, the older heads out there showing their experience.
At the back, the hero was Darren Purse who won every header that came his way, every header under challenge, a few headers that he had no right to win and headers that he seemed to be nowhere near when he jumped. When he didn't win a head, he was belting balls away into Row ZZ. Neil Cox wasn't far behind, he may lack pace but his football brain more than makes up for it, his positioning and awareness always seemed to be spot on.
City were dealt two quick blows as Rhys Weston and Steven Thompson disappeared within a couple of minutes of each other with 25 minutes remaining, Weston seemingly with a slight pull, Thompson the result of a knock helping out deep inside City's own penalty area. Neal Ardley took over Weston's role, Boland and Cooper came on as Cardiff switched to 4-5-1.
By now, Jason Koumas was producing his best. Some of his touches, flicks and runs were breath-taking, each relieving pressure. At times, it was like watching a one man masterclass. I particularly enjoyed his flick on the outside of his boot deep in his own half, spin and turn around a Leicester attacker and coming away with the ball, showboater!
Another showboater, but not very good at it, was Leicester's Ryan Smith. By the way he strutted around, you could see why he came from the Arsene Wenger set up but his three corner kicks in front of us were all awful. All weak chips, one couldn't beat the first man, another straight to Alexander and the third easily headed away. Being so close, meant we could give him verbals before he took them and thank him afterwards for his naffness.
With Leicester getting desperate, we could finally laugh at them. An attempt to take a quick throw with a spare ball ended when their ball boy sent the original ball back on the pitch, the retake was ruined too as the spare ball came back on again, one of their players - Hughes - then threw the ball away in disgust and stared out the ball boy. A poor cross went straight to Alexander, producing 15,000 very loud boos as the quiet lot were now an impatient lot. A huge booming chant of "Levein Out, Levein Out" rang out, I joined in with that one. Then the biggest cheer of the afternoon as Leicester made a double sub for the final 15 but I'm still working out if they were cheering the two came or ironic cheering for the two they were taking off. As it was, Leicester now had 5 attackers on the pitch.
They tried, they pushed hard but City's resoluteness combined with the home side's lack of quality in the final third meant it counted for nothing, Alexander have no saves to make, a couple of crosses to take, that was it.
Indeed, the only side who looked like scoring late on were Cardiff. Douglas saved a Koumas 25 yarder from another great run, then after Jerome was sent clear by an outstanding Koumas pass, he delayed his shot a fraction too long, Douglas stopped and the ball was scrambled away as Ledley ran in looking certain to score. Finally, Douglas produced a great stop after Ledley had superbly made space for himself, latched onto a Cooper through ball and hit a fantastic angled drive.
Leicester's only effort at goal in a very tense ending came in the final minute of the three added on but Elvis Hammond sent it way over goal, Elvis' shot certainly left the building. Uh-Uh!
A brilliant, brilliant afternoon. A double over Leicester in the Championship and a day to savour. Under pressure, we showed our work ethic. Everyone played their part, City battled and scrapped, they showed their nerve. When attacking, we showed quality and two sublime goals that deserve to win any game.
It took some time to get away and, along exit roads, there were still large groups of police as much as a mile or tow away from the ground, quite incredible. The win however made the journey home seem short but very sweet. Listening to radio phone-ins with fans moaning about their teams and managers, including more than a few Leicester fans, makes you realise this really is a great and proud time to be a Cardiff City follower. The football may not always be magic but the boys have been outstanding and even though we don't know how they can maintain a play-off challenge, they're doing exactly that. All credit to Dave Jones and his players.
It's a win that lifted City to 7th, leapfrogging Wolves, but still 2 points behind the play-off sides who look increasingly hard to catch as Leeds are 10 points ahead of us, Watford are 8 points ahead, Palace are 4 points clear with 2 games in hand and Preston are two points clear with a game in hand and unbeaten in 19. We need to maintain a winning run to overhaul them but we're now 5 points ahead of 10th. A great achievement.
With an away training trip in Portugal and no game next weekend due to our F.A. Cup exit, next up is Millwall at home on January 31st, immediately after the transfer window has closed. On a personal note, I hope our goalscorers this weekend are still here to play in that game because, let's face it, while it's a team game, Koumas and Jerome are the key difference between City being 7th and not 17th in this season's Championship. They give us a quality in and around the penalty that others, Leicester included, have to dream about.
THE COST OF BEING A CITY FAN:
Tickets: £46
Programme: £ 3
Leicester Fanzine: £ 2
Food/Drink: £20
Hotel: £60
Petrol: £35
Car Parking: £ 5
Total for game: £166 (costs are for two)
Total for season-to-date: £2,184



Report from FootyMad

A goal by new signing Matt Fryatt on his home debut wasn't enough to prevent Leicester City from slumping to a defeat which leaves them firmly entrenched in the relegation zone.

The East Midlanders have won just five league games this season and alarmingly have now lost their last five on the trot.

Fryatt equalised Cameron Jerome's early opener but a trademark free-kick by Jason Koumas 10 minutes after the re-start sealed it for the Bluebirds.

Leicester dominated the early exchanges without creating much of a threat on goal and it was the Welsh side who took the lead on 12 minutes with the prolific Jerome bagging his 15th of the season.

A long ball from Neil Cox picked out Neal Ardley on the right and when the cross came in the lively striker was allowed to rise unchallenged to head powerfully beyond Rab Douglas.

Dithering in the Leicester defence then let in Steve Thompson but fortunately for the home side his shot lacked the venom to trouble Douglas.

The Foxes hit back with Fryatt firing Ryan Smith's low cross over the bar and Alan Maybury then blazed over as the home side created chances but struggled to hit the target.

But their persistence was rewarded five minutes before the break with Fryatt equalising.

Mark De Vries' cross from the right was nodded on by Stephen Hughes for the former Walsall hit man to steal in and head home with the last defender Darren Purse unable to prevent the ball from crossing the line.

Inspired by their equaliser, the Foxes tore into Cardiff and finished the half with their tails up with both De Vries and Fryatt close to giving their side an interval lead.

But it was the Bluebirds who began the second half more strongly with Jerome squandering a clear opportunity when he blazed high and wide after good work by Ardley and Thompson.

Then on 50 minutes the home side were denied the lead when Fryatt followed up De Vries' blocked shot only to hold his head in disbelief as the Cardiff keeper threw himself backwards to claw away his goal-bound shot.

It was to prove a crucial moment for it allowed Cardiff to recover the lead on 55 minutes when Nils-Eric Johansson fouled Thompson to concede a dangerous free kick.

Up stepped Koumas who, from 20 yards out, curled the ball over the wall and into the top right-hand corner of the Leicester net.

De Vries was close to another Leicester equaliser on 66 minutes when he headed Smith's cross narrowly wide.

The game was slipping away from Leicester and with 13 minutes remaining Craig Levein gambled on a double substitution with Iain Hume and James Wesolowski replacing Maybury and Patrick Kisnorbo.

But it failed to inspire the expected late flourish and it was Cardiff who finished the stronger.


External reports
Leicester Mercury
South Wales Echo