Photos are at:
http://nigelblues.blogspot.com/2008/01/championship-west-bro mwich-albion-3.html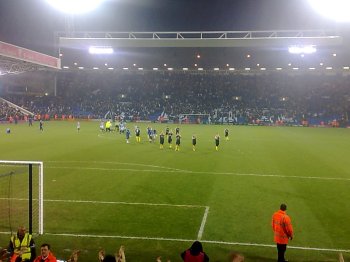 West Brom and Cardiff City served us a thriller. The Bluebirds did us proud but it was agony too as they grabbed a lead in the opening 30 seconds, doubled it after the half-hour and led 3-1 with 15 minutes to go before Albion showed their class and quality to rescue a point from what looked a hopeless cause although it took a freak Roger Johnson 88th own goal to level matters at 3-3.
An exhilarating game, a cup-tie atmosphere and the first time I've had a hoarse voice shouting on City for some time but it was that sort of game. "3-1 and you f**ked it up" gloated the Albion fans at the end. They had a point but City's point at The Hawthorns, performing so well against easily the best team in the Championship, was something each of us would have gladly taken beforehand. Both teams and sets of fans deserve credit for making it memorable.
I like West Brom and I love the Hawthorns - a proper football team with passionate fans watching their football in a real stadium. City fans obviously see it the same way as our initial 1,500 allocation sold in no time, 500 more went in 2 separate extra allocations and it was pretty obvious many more Cardiff fans were in the home sections, some being escorted out when sussed, the giveaway being unable to contain themselves as City's goals rained in.
Perhaps the only sour not was the disgraceful treatment of our coach travelling fans - the ones least likely to cause problems - by West Midlands Police. Can they ever do anything right? A funeral procession escort from Frankly Services for over 1,000 of our number saw them get to the ground after kick-off and Parry had already scored. By the time they had entered a woeful 4 turnstiles, it was 20 past. West Midlands Police have no excuses for treating our fans this way and should be big enough to explain their antics and apologise. I won't hold my breath though.
Thankfully, I was one of a few hundred who opted for train. To stay low profile and have a hassle free day, our small group decided to get to Birmingham via a link at Bristol Parkway and avoid the direct route. Many had the same thought, including Joe Ledley's brother. In comes our connecting train ... packed with City fans! Little did we know the service we'd waited for started out at Cardiff too but went to Temple Meads first.
A decent trip though but time to go low profile again at Birmingham New Street which was swarming with police as Chelsea were also in town (playing Birmingham) and it's a connection point for many football fans. Cardiff fans were held up, searched before they were, I understand, escorted to a pub but we sneaked away into the grey day. Our group of 7 trebled as we bumped into the London 1927 travellers in the centre. Standing outside a pub we'd arranged to meet, someone phoned as it was shut. "We're not opening until 2", the sight of 20+ civil City fans enough to terrify its landlord inside apparently so we went upmarket in All Bar One, fantastic beer at incredible prices (incredible = £3 a pint!) but worth the extra to ogle the barmaid in there.
We split into smaller groups, some in search of pubs with Sky and cheaper ales, Mike Morris and myself had kids in tow and were meeting others so a Wetherspoon's (there are 7 in the middle of Brum) and met other City fans there, didn't win a single game on the quiz machine which says a lot about us and it was time for the game with one final 5 minute train trip to Hawthorns, a station about 3 minutes walk from the ground.
The match tickets were bar coded so there was no turnstile attendant, you slotted your ticket in the reader - after getting through the searches of course! - but every gate needed someone on duty to help you and in case there was a problem. Can anyone explain what was the point of that system?
Inside, no ale on sale (seems to be a standard practise wherever we visit these days) in our away end behind the goal with Baggies fans to our right. The police and stewards were keen to keep a no man's land between home and away fans but Cardiff fans since moved into the area and that was that, let the singing contest begin ... with some also more than happy to spend their afternoon having a stare out and gesturing contest with those on the other side of the divide and police/stewards also joining in with this more significant entertainment by pulling out Cardiff fans who went a bit too far, although they then let them back in again after a word.
City warmed up confidently but what a shock to see Peter Enckleman's hair-don't, a grey blonde straggly long haired style with a massive bald spot on the top of his pate that made him look about 60. Someone should tell him. Also warming up were two kids - Matthews and Brown - given Chris Gunter and Jason Byrne's old squad numbers and brought along for the experience but, no surprises, City were unchanged from the team that overcame Sheff Weds the week before with Oakes, Oakes, McNaughton-Johnson-Loovens-Capaldi, Whittingham-Rae-McPhail-Parry, Hasselbaink-Parry. Subs were Enckleman-Purse-Ramsey-Thompson and Darcy Blake.
Blake replaced Steve MacLean, the striker brought here for nothing from Sheff Weds who never fitted or quite looked able enough, yet Plymouth and Paul Sturrock think differently as they snapped him up for their transfer record fee of £500,000 with a long contract 24 hours earlier. On the evidence shown at City, brilliant business for us and something that could end in tears for them but maybe he'll settled better in Devon.
Albion are top of the Championship with the best team and a squad more able than anyone else's who, under Tony Mowbray, look certain for promotion. They have been incredible at home with, before this one, 34 scored in their 13 previous home games and just 11 conceded. Their last 3 at home in the league saw them hammer Charlton 4-2, Bristol City 4-1 and S****horpe 5-0 but they needed extra-time and penalties to be beat Charlton in the FA Cup during midweek and were seeking revenge over City for our 4-2 mauling of them at the Hawthorns earlier in the season in the Carling Cup, however Cardiff hadn't won here in the league since 1951, a run now stretched to 13 games. The Baggies' side were Kiely, Hoefkens-Pele(!!)-Barnett-Alberechtsen, Greening-Koren-Filipe Teixeira-Brunt, Miller-Phillips.
In the fully enclosed old stadium adapted and modernised Hawthorns (how I was we could have done something similar to Ninian Park), the atmosphere was hot with over 2,000 City fans in the crowd of 22,325. City were in black, WBA in their traditional Tesco Carrier Bag lookalike shirts (is that why they're called the Baggies?). They're the home of boing-boing but it was City fans doing that and going absolutely mental as PAUL PARRY opening the scoring in an amazing 28 seconds.
City got the ball in their own half, put together several passes involving half the side before Gavin Rae stroked the ball ahead in space for Parry to ran at defenders, he cut inside one of them watching him and unleashed a 25 rising drive that had Dean Kiely Minogue beaten all the way as it flew over him into the top corner. That's must be the earliest hug I've had with complete strangers for years, the place went bonkers. Funniest of all was a girl in the row in front of me who, I swear must have been about 8 years old, who turned to the West Brom fans and shouted "have that one you w*nkers, now f**k off" gesturing away like a veteran. I was shocked but in hysterics at the same time as she continued her tirade.
It heralded a half where Cardiff took the game to the league leaders, playing some fantastic football and creating most of the chances and causing danger every time they got forward. The longer the half progressed, the more ragged Albion became as balls swept long or wide were met by determined City tackles or spectators as they flew into the crowd. Their early threat was Ishmael Miller, who was big, very pacy and a real handful. One crunching Glenn Loovens challenge and as was finished, out of the game on the quarter hour, but replaced a huge Czech in new Baggies cult man Roman Bednan, it hardly meant things were easier. The chances were City's Johnson heading wide, Whittingham firing narrowly wide, Jimmy blazing over.
City were dominant at the back that the first seen of Baggies talisman Kevin Phillips was a speculative 30 yarder that flew towards us seemingly in slow motion that had Oakes flying across goal to palm behind. Then a worrying moment as Kevin McNaughton flew into a typical heroic challenge to block Phillips and, from my vantage point at the front of the stand, I could immediately see he was out cold and looking very pale. Lengthy treatment with City fans chanting his name eventually saw him back to his feet but the club doctor ruled him out, on came Darcy Blake for a testing challenge up against Chris Brunt.
The game restarted and Albion immediately tested him with a ball behind him, Blake was coolness itself turning full circle to leave Brunt behind, smacking the ball upfield, Jimmy flicked on and there was PAUL PARRY racing away in full flow, carrying the ball a full 30 yards deep into the box and firing the ball right across Kiely into the bottom, opposite corner, Parry's 8th of the season in which he doesn't score ordinary goals or tap ins and he was now looking for his first league hat-trick. Two-nil, dreamland and complete bedlam in our end, Albion looking in some despair, joy of joys!
Why is it City so often have the habit of shooting themselves in the foot when things are going so well? Straight from the restart, Albion won a free-kick, the ball no more than a simple chip into our box but there was BEDNAN to meet it unchallenged and plant a firm header across Oakes, 2-1 City.
Undeterred, on the pitch and off it with off singing, back came City undeterred and, once more, got stuck into the home side. Whittingham was very close, Parry had two chances and maybe should have bagged his hat-trick with clear sight of goal in the 6 minutes added time but his curled, placed top corner effort was narrowly over the angle. Albion, meanwhile, were looking quite ragged again, the home fans making their frustrations know too. What a breathless 45 minutes.
Half-time: Baggies 1 City 2
Albion started the second half trying to get at City more but, yet again, our counter-attacking caused them infinitely more problems than their pressing caused City and, 52 minutes, that two goal deficit was restored with City playing the ball out of defence, JOE LEDLEY involved three times as the ball moved upfield. He enjoyed a little slice of luck as he ball across the face of the area flew back towards him but what followed was quality as Jimmy let the ball run, Joe turned away from a defender and, calm as you like, rolled the ball into the opposite corner. That goal coming at our end signalled the biggest celebration and mass hug of the lot and took the atmosphere up another notch.
City's singing had been on the money all afternoon but now it was triumphant. Apart from all the usual repertoire did come a light-hearted, "you're just a small town in Chasetown" jibe at The Baggies whose players heads visibly dropped at that latest setback. The ayatollah was in full flow and the inflatable sheep was bouncing around in our end.
With Albion going nowhere, they showed what a squad they have as a double sub came just before the hour. What it must be to bring on players like Zoltan Gera as a sub and a pop star in James Morrison too! Pele (a name like that, you're'aving a laugh) and Koren made way as they threw caution to the wind.
Their tactics were simple, they loads up both flanks and moved the ball, left to right or right to left, firing in cross after cross after cross and City were suddenly finding themselves hemmed in and desperately trying to absorb it all. City had two big problem. The first, yet again, was Jimmy Floyd-Hasslebaink was clearly burned out by the hour, unable to chase the ball, close play down or hold up play when it came his way yet Thommo, despite City fans calling his name, was confined to warming up. The second was their inability to be ruthless and finish it. Gavin Rae, twice, and Joe Ledley were the guilty men. Ledley who was in on goal coming in fro an angle, the shot should have been his only thought but he opted to try and set up someone else, that chance went. Rae found a top Joe Ledley cross leave him with a free hit at Kiely but he trapped the ball and laid it back, another move had him set up by Whittingham yet he blazed over.
It was to prove costly as Albion, backed by impressive support of their own that got behind their side with an incessant chant, were making headway, City unable to stop the crosses and suddenly looking powerless to win the challenges in the box. Two or three times, a header flew narrowly wide, a header and a shot were straight at Oakes, a penalty appeal was survived and a Kevin Phillips goal was disallowed.
City fans were now starting to get a bad feeling and few doubted if Albion got a second, then another would follow, the momentum and possession was completely one way. On 73 minutes, we finally cracked, Oakes made a fantastic save to push a downward Bednan header up and away but City weren't alert enough to react, the ball was immediately lofted back into the danger area where ALBRECHTSEN rose above everyone to make it 3-2. Only then did Dave Jones change Hasslebaink for Thommo, that was a mistake in my view.
It was now, quite simply, a case of whether we could hold on although Thommo's first touch almost turned a Rae cross goalwards and missed Ledley's boot by a coot or two as it glanced wide. The Albion attacking was intense, Capaldi and Blake were being pinpointed, they certainly loaded up an extra man on Capaldi's side and we didn't respond, it was unerring how balls were flying to the wings and then into the box. Where was Michael Oakes amongst all of this mayhem? The answer was glued to his line. Not once did he came for any ball or help out his beleaguered defenders. He didn't have a bad game at all but it may have given Dave Jones the reason/excuse he perhaps wants to start with Enckleman.
City seemed to be riding it however and hopes again rose that we could hold on even though there was a lot of added time when disaster struck. 88 minutes, a simple ball into the box beat all the target men, ROGER JOHNSON was there to sweep away but mistimed it, the ball sliced and screwed off his boot over a helpless Michael Oakes. You can't stop Magic Johnson scoring, can you? :>)
From delight to despair as, for the second time, 6 minutes added time were shown. Both sides had one golden chance. Joe Ledley for City as he charged for a through ball, Kiely raced out and timed it wrong in his challenge, Joe did everything to shoot off balance as he fell, his effort agonizingly sailing a couple of feet over. You have to wonder if he had taken the challenge alone and gone down, was a penalty a certain award. At the other end, Albion won a knock down, a shot across Oakes must have smelled the paint of his far post as it whistled by.
Honours even then, a fantastic match in which you felt disappointed how it ended for City but, once the emotions of an amazing game had died down, immensely proud of their efforts and how they so nearly won against, let's be honest, a far superior team man-for-man although their defence didn't convince at all.
Coming home, we got lucky. Wanting to get home rather than go on the sauce (unlike me I know but I had a heavy Friday night), we arrived at Hawthorns as a train pulled in, avoided the law back at Birmingham and they again tried to pen other City fans and got to New Street 2 minutes before a service pulled out and before the hordes made it.
With few footie fans on board, the bar was open - Stu, Mike and myself raided it and had a decent trip home a little gutted how it ended, chuffed by the point overall and celebrating a good awayday. What a contrast all of this is to just 2 or 3 months ago, long may it continue!
Report from FootyMad
Luckless Roger Johnson cost Cardiff City the chance to record their first league win at The Hawthorns since 1951 as his own goal handed leaders West Bromwich Albion a dramatic share of the spoils.
Cardiff had looked set to pick up a sixth win in the last seven games before central defender Johnson sliced a Zoltan Gera cross into his own net in the 88th minute.
It was rough on Cardiff who had twice been two goals in front, but a just reward for battling Albion.
Quickfire Paul Parry took just 27 seconds to put Cardiff in control and doubled their advantage in the 33rd minute with his sixth goal of the season.
Substitute Roman Bednar's tenth goal in 12 games gave Albion hope before Joe Lesley's second-half strike looked to have made the game safe.
But Martin Albrechtsen set up a rousing finale when he reduced the arrears in the 71st minute before Glenn Loovens handed Albion a hard earned point.
Albion were caught cold straight from the kick-off when Parry collected a pass from Gavin Rae waltzed through their backline and lifted the ball over Dean Kiely from 20 yards.
Unsurprisingly, it took Albion some time to get to grips with that setback and it wasn't until the 25th minute when they first really threatened.
It needed a fingertip save from Michael Oakes to keep out a 35-yard drive from Kevin Phillips.
When Bednar saw his shot deflected wide two minutes later, Albion appeared to be getting on top.
But their revival came to a shuddering halt in the 33rd minute when Parry raced on to a clearance by Darcy Blake and cut in from the right wing and raced past Albrechtsen before firing an angled drive beyond Kiely,
This time, Albion's response was immediate. Captain Jonathan Greening lifted a free-kick into the area and Bednar was on hand to steer his close-range header beyond Oakes.
But their hopes of a comeback were dashed seven minutes into the second half when another surging run down the wing proved to be their undoing.
Ledley made and scored the goal when he left right-back Carl Hoefkens in his wake.
There was a stroke of luck about the strike as Ledley's misplaced cross flew straight back to him but the Wales international made no mistake with a low left-foot drive from 12 yards.
To their credit, Albion did not buckle and they were rewarded for their persistence 19 minutes from time when Albrechtsen struck.
Phillips saw his header saved by Oakes, but the ball was crossed back in by Brunt to Albrechtsen who made no mistake with a header from eight yards.
Albion then laid siege to the Cardiff goal and there pressure was finally rewarded through the unlucky Johnson.
External Reports

The Sunday Times
Wales On Sunday