A brilliant display of counter-attacking football and, for the first team all season, playing as a together team working for each other rather than a collection of individuals, saw City thrillingly overcame Wolves 3-2 at Molineux in front of 27,896 fans, just over 2,000 of whom non-stop supported the Bluebirds. A great day, a joyous occasion, a big win – the best feeling for ages.
Excellent goals from Paul Parry, Peter Thorne and Graham Kavanagh gave City a hard-earned victory in a style that answered most of the deserved critical comments about them. Every player was a hero from previously under-fire keeper Tony Warner making two outstanding stops to non-influential Captain Kav finally looking the dominating force that he is.
Our inferior pace and movement was light years ahead of anything else this season, Wolves were frequently stretched and have to admit they were second best to most 50/50 balls and even quite a few in their favour. The new signings played their part with Daz Williams looking solid and accomplished at right back. We showed bottle, application and grit, always looked to be focussed and stuck to the task. We kept going for the full 90 minutes. The only criticism will be that City again conceded two disappointing, even soft, goals but this was a game to savour and enjoy some long overdue celebrating and we did exactly that.
Wolves is one of our shortest trips of the season. Up the M4/M50 and M5, just over 100 miles, a 2 hour journey … so that's why our coach from The Lansdowne left at 9am then! Worse for myself having got in 4am beforehand after an opening party night for my new Company until 4am. Having turned up after hard partying and 4 hours sleep, if you saw me on Saturday and I made less sense than usual, at least you now know why. Maybe I could have slept on too as the second coach from The Lansdowne didn't leave until 90 minutes late due to an electrical fault.
Both coaches, plus one or two more, stopped en route in Tewksbury and Wolverhampton police decided to extend no welcome whatsoever in any local pubs to those travelling by organised, we had to be escorted into town and marched to the ground. Meantime, those who travel independently by train or car could drink what they like, turn up what time they like and go where they liked. Go figure the sense in that.
Still, Tewksbury was fine. We found a really nice place and I was King of the Pool Table thanks to the Bill Werbeneck effect! My Friday night hangover, Saturday top-up had one benefit anyway.
The coaches lined up together outside Wolverhampton, were shepherded to a car park about half mile from the ground and frog-marched downhill to the away end. For those unfamiliar with Molineux, it is intimidating, it has a reputation but it is a great venue with a top atmosphere being built next to the town centre, in a natural valley with the entrances to it being either though narrow streets and lanes and/or subways.
No problems getting in and excellent once inside. Good bars, good catering and City fans in the Steve Bull stand Lower Tier running along the full length of the pitch. Not dissimilar to our Lower Grandstand but more impressive with its curve shape, hospitality boxes behind and home fans in the Upper Stand on top of that. It is a traditional ground with 4 sides, the stands naturally all seated and the old terraces behind each goal being very high structures. It was a fantastic sight with a crowd of 27,896 being their second best of the season. Apart from the very ends of the City stands, there were few spaces. Large screen tv's occupied two of the spaces at diagonal ends between stands, the one opposite us however was shocking and made our Ninian Big Screen look World-class.
City, we hoped, had renewed confidence with kids-inspired emphatic midweek win at Milton Keynes, two new faces (albeit on loan) and some established players who had possibly been complacent suddenly realising that they had better start playing and quickly with the club in 23rd place and the criticism towards them understandably strong and hard to refute.
The line up was Warner in goals, Williams-Gabbibdon-Vidmar-Barker, McAnuff-Boland-Kavanagh-Parry, Lee and Thorne. The bench were Alexander-Bullock-Collins-O'Neill-Robinson. Tony Warner and Kav could have been dropped and had no complaints but they grasped the opportunity and were two of the stars. Daz Williams, on loan from Sunderland, replaced the injured Weston. Despite his midweek heroics, it would have been a big ask to line Byron Anthony against Kenny Miller, Wolves' strongest attacking threat. The bench looked its strongest in a while with John Robinson back after a few days domestic compassionate leave and England Under-21 skipper Gary O'Neill on loan from Portsmouth.
The home side have had a poor start to the season but came into the fixture with successive away league victories at Plymouth and Brighton. However they had lost on penalties at Burnley in midweek Carling Cup action and had not yet won at home in the league this season. Not that they had lost either, all previous four home encounters ending in draws. Not a good start for a club aiming for an immediate return to the Premiership.
Their starting eleven were Jones , Lowe-Clyde-Craddock-Naylor,Newton-Olofinjana-Ince-Miller, Seol Ki-Hyun-Cort. An experienced team with Paul Jones and Paul Ince being the veterans, good experience and promise elsewhere blended with new foreign blood in South Korean World Cup star Seol Ki-Hyun playing an attacking midfield role, a big Nigerian forward in Olofinjana plus more danger with Newcastle, a £7M misfit at Newcastle, trying to show he's better value for £2M leading the forward line at Wolves. Clearly, like City, a side who should be doing better than they currently are.
City were up for it from the off, immediately setting about Wolves and in doing so, they answered another of the valid criticisms about them. We have been notoriously slow starters, played a laborious passing style, always gone behind first this season (apart from the 0-0 at Forest) and often not even registered a shot until 15 minutes or more into the game. Just over 30 seconds gone, Kav set Alan Lee free, the big man forced Jones into a good save but hit it straight at him when he should have done better. However the tone was set and City kept it up.
The opening goal on 10 minutes was a beauty and everything that City haven't been this season. The ball worked upfield, incisively and at pace, McAnuff swerved inside and beat his man, the game opened ahead of him and he swept the ball quickly to Paul Parry. PARRY cut inside, shot first time and the ball flew high past a rooted Paul Jones, City fans went absolutely mental and no wonder – it was our first score for 4 league matches and more than 5 hours. We hadn't forgotten how to celebrate but the dance and hugging routines were a bit rusty! Only later did I realise the shot took a cruel deflection, it was the opposite end of the ground to me but it was the sort of luck we both needed and deserved.
The last time City scored first in a league game was Wimbledon at home on May 1st. On that occasion, they allowed the Dons to equalise straight from kick-off. How bloody typical of City that history repeated. No sooner had we started chanting "1-0 to the sheep sh*ggers" and just twenty seconds after kick-off, Wolves were level. ****!
A good goal but more questions and City's defending and marking as a ball swept wide from midfield was dummied by Cort, Ki-Hyun found himself behind City's defence and his low ball across the 6 yard box was turned home by Cort who got in front of our central defenders.
It was a huge life for Wolves and City suddenly found life much tougher going. Kenny Miller was a huge threat as well as Williams was battling against him. The home side had a goal disallowed when Miller got away and Olofinaja turned the ball home far post, not dissimilar to Cort, but was rightly ruled offside.
Tony Warner saved City twice with tow stunning saves, both times getting down low to save close range headers, the second of them, scooping the ball away at the far post with stunning. So much for all the complaints we have rightly had ability his ability to get down. Well done Tony.
City had one other escape of a different type as Alan Lee was adjudged to have elbowed Clyde. There was obvious contact as Clyde was out of the game, his nose badly broken but he wasn't a good looker anyway. Lee was booked, the ref presumably ruling it wasn't malicious, others may have ruled differently. To City's credit however, they kept at their game and fought well and hard, they had confidence about them and were not being intimidated in the fantastic atmosphere. Kav firing wide with a distance effort being their closest other attempt of the half, perhaps the other highlight for us was Wolves' Welsh keeper Paul Jones "doing the ayatollah". It didn't help him later on.
It was an even contest, one that could go either way but undoubtedly winnable if City stuck to their task.
Half-time: WOLVES 1 CITY 1
One of the plusses for City was that they were starting with two widemen who both worked hard, both had skill and both gave the central midfielders options. It's not often we have been able to say that in recent times.
On 48 minutes, the impact of that set up and someone in the penalty area who can head a ball (something else we've been missing with respect to Alan Lee) stunned Wolves. Paul Parry, who has rediscovered his form and reproduced his strong show at MK Dons, took the ball, went wide and hit a peach a left foot far post cross. THORNEY needed no invitation, got behind his marker and produced a trademark textbook finish to crash a header home inside Paul Jones' near post. How good did it feel to wave at the Wolves fans who were getting cocky and sing the Peter Thorne chant with gusto? Fantastic.
City were now back in control, competent and confident in doing all the right things. The support was with them, the home fans subdued. Happiness turned to uncontrolled joy and that 'better than sex' feeling as we 'Danced all over Wolves' on 58 minutes with a stunner from Kav.
A McAnuff corner came over, Paul Jones' punch wasn't the best as the ball flew high into the air but it took a while to drop and Kav's finish was truly outstanding and supreme as he charged in, timing and power was bang on perfect, as he smacked the ball back with real venom leaving Jones and the Wolves defence helpless and the ball screamed high into the top corner. The bulge of the net probably saved a Wolves fan behind the goal being decapitated, such was Kav's awesome strike.
The City end was now ballistic, Kav was chanted, every player was chanted. Only one player was being booed, Wolves' Paul Jones. After ayatollahing for us first half and then punching poorly, it was too much for the Molineux less-than-faithful who booed and heckled him mercilessly for the rest of the game. Questions should have been asked about why their defenders were motionless, the strike should have been admired. We managed to cheer Jonesy a little and pee off Wolves fans at the same time by chanting, "Wales, Wales No. 1" in response.
It left City half hour to hold out a two goal lead and a different test of character but one we passed again. Players fought and worked hard, we carried on passing and moving well and staying tight and tidy, there was no way back for Wolves. Paul Ince tried but got nowhere and every time he came near us, up went the chant "You're not famous anymore" on an afternoon that Willie Boland and Kav especially dominated him and his colleagues.
The whole team deserve praise and also wonder what has changed because something definitely has and I don't believe it's just about players being stung by criticism. Paul Parry who has checked inside or laid the ball off all season is suddenly going at, by and past players again. Kav has taken just about every corner kick until the last fortnight wouldn't have scored his goal at all before today because he would never have been in that position. Early arrivals also spoke of City's new training and warm up regime looking much more professional and organised. Surely it's no coincidence that these things are happening with Terry Burton now at the club?
There were heroes everywhere. Parry and McAnuff worked hard and stretched play. Kav and Boland finally got moving about and did more than short sideways and backwards passes. Thorne and Lee may not be the most compatible but they are a real handful for any defence. Gabbs looked more interested and fired up, Vidmar had his best game of the season. Williams gave the defence more solidity on the flanks and even O'Neill, although only on for a few minutes, quickly made an impression by getting stuck in, earning a booking too. A great team effort.
It was a real pity, and worrying, that City almost ruined it all with another gift of a late goal. A simple corner knocked to around the penalty spot and there was PAUL INCE, hardly the biggest player but someone you should notice, allowed a free header that he diverted home. Simple stuff, we still haven't quite got this right.
It left Wolves 6 minutes with added time to equalise and kept a few behind after we'd been waving cheerio to all their many fans leaving early – bloody lovely to see it being someone else's fans instead of ours for a change. City however closed it out with no problem, a win, three points and out of the bottom three at last. It felt like a big win, it was a big win and the party began, fans and players wildly celebrating.
Leaving the ground, more "entertainment" but hardly the desirable sort. City were let out at the same time as Wolves and with the narrow entrances and few exits, getting into close contact was inevitable. The police were over-worked keeping fans apart with Wolves supporters virtually having us penned in as we walked uphill with riot police holding back Wolves fans to our left and right and ahead of us. Some gesturing and posturing was inevitable, it was very confusing as fans ran in each direction and objects went flying through the air. Some City fans were knocked to the ground, some truncheoned and for a few seconds, it was very worrying that a major incident was about to unfold.
Fortunately, problems subsided fairly quickly, the police were reasonably good but it can't be right or good to allow those things to have happened. I can't believe they allow that every game. It makes no sense whatsoever to me to let away fans out at final whistle with the home fans, apparently to comply with some law, but then hold us in car parks for over an hour outside as it was gone 6pm when we eventually left. Where's the logic in all of that?
Anyway, that was the side show. The main event was ours, City have set a standard and shown what they can do. Hopefully we can pull away and quickly. Suddenly we can look ahead to games in optimism rather than fear. Our coach stopped coming home too, this time to celebrate rather than sulk and moan. What a difference and much better feeling, about time too.


Report from FootyMad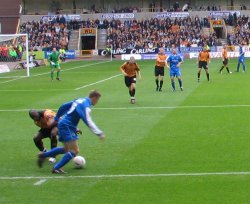 Parry about to cross for Thorne (far right) to head City's second

Captain Graham Kavanagh helped to ease the pressure on manager Lennie Lawrence as his stunning strike set the seal on Cardiff City's first away win of the season at Wolves.

Cardiff had arrived at Molineux on the back of a run of six defeats in seven games that had seen them collect just one point from 21.

It had put Lawrence's position under the microscope but his players responded superbly to stun a Wolves side who are still searching for their first home win of the campaign.

Paul Parry fired Cardiff ahead only for Carl Cort to equalise 60 seconds later.

But two goals in the space of 11 second-half minutes from Peter Thorne and Kavanagh secured Cardiff's badly needed win.

A late strike from Wolves' skipper Paul Ince proved to be no more than consolation for Dave Jones' side.

Wolves had gone into the game seeking a third successive league win after back to back away victories at Brighton and Plymouth.

But they had no answer to Cardiff's impressive start to the second half as they continue to struggle to force their into the leading pack and they left the pitch with the boos of their fans ringing in their ears.

Wolves were stunned after 11 minutes when Parry was picked out by a cross field ball from Jobi McAnuff before seeing his shot deflected past Jones off Wolves' debutant right-back, Keith Lowe to hand Cardiff the lead.

But Cardiff barely had time to celebrate only their second goal in five games before Wolves were back on level terms.

Ince sent Seol Ki-Hyeon clear and the South Korean international whipped in a left-wing cross that Cort instinctively met the centre with a first-time shot for his second goal of the season.

Cardiff were then indebted to their goalkeeper Tony Warner who pulled off a stunning one handed save to push away a header from Seyi Olofinjana on the stroke of half-time to keep them on level terms.

It proved to be an escape that Cardiff took full advantage of. Thorne, who had opened his account for the season with a double in the midweek Carling Cup win over Milton Keynes, rose at the far post in the 48th minute to head home a Parry cross.

Wolves fate was then sealed after 59 minutes with Kavanagh's wonder strike.

Goalkeeper Jones could only punch a corner from McAnuff into the path of Kavanagh whose first-time right-foot volley dipped over Jones and into the roof of the net.

Wolves mounted a late rally when Ince headed home Ki-Hyeon's corner, but Cardiff were able to hold on for their priceless success.


External reports
Football Echo
Wolvescentral.com
Wolvesstats
The Times
The Independent
Wales On Sunday
Western Mail
Birmingham Post