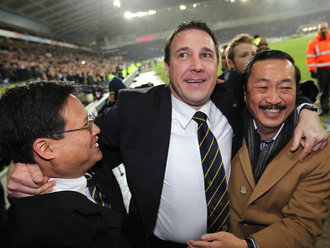 After the outcry that erupted this morning when BBC Wales published details of it's recent interview with Vincent Tan the club have been quick to issue a statement saying there will be no name change.
A statement on the official website www.cardiffcityfc.co.uk quotes Mr Tan.
"I can assure all supporters that we will not be changing our name from Cardiff City Football Club, a club I am very proud to be a part of.
"Our name is our identity and remains at our core. I would not want any of our supporters to be concerned that this change would be made, hoping that this personal commitment from myself removes any fears.
"I believe the colour change is positive and will bring good tidings to Cardiff City Football Club. At this point of time, no decision has been made to change the club crest for the next season.
"For the present day, all I would ask is that we all join together, continuing your excellent support at what is a critical juncture in our season.
"Our collective aim is to back Malky Mackay and his team as they work hard to bring us all success. Working together we can achieve great things in the name of Cardiff City Football Club."
Tan's comments from the initial interview were published by the BBC this morning and it caused uproar.
Their article opened with
Cardiff City owner Vincent Tan has said that promotion to the Premier League could trigger further "rebranding" and did not rule out changing the club's name to Cardiff Dragons.
The Malaysian billionaire has already insisted upon a colour change from blue to red, as well as a new club crest.
"We will think about it when we know the final result of this season," he said about using Cardiff Dragons.
"Then we will think what's the best way to brand it."
Tan acknowledged the "rumours" that have recently emerged over the use of Cardiff Dragons but added: "We haven't discussed this. I've not really thought about this in detail.
"But when we get there we'll make a decision. And when we make a decision we will convey it to everyone."
The statement this afternoon will not convince everyone. Last summer it was annouced, after the inital news broke about a red kit, that the club would not go ahead with the change. The full statement from Chairman TG can be found here from May 10th, 2012.

Some 13 weeks later Cardiff kicked off the season against Huddersfield wearing their new red kit.